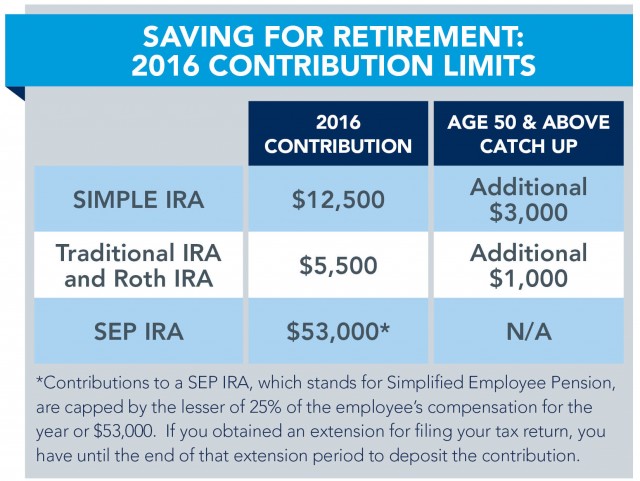 March 31, 2017
Markets rallied strongly this week with the S&P 500 up 0.80%, bringing the first quarter's gain to 5.53%. Higher consumer and business optimism early in the quarter surrounding the Trump administration's plans to tackle tax, trade, and regulations helped propel the markets higher. Despite the recent market dip after last week's unexpected White House failure to overhaul healthcare, market sentiment remains high with investors looking forward to the upcoming earnings season and the White House's move to focus on tax and trade reform. Meanwhile, economic reports remained relatively light this week with releases on International Trade, Personal Income and Spending, and China manufacturing.
U.S. Trade Deficit Narrows
The U.S. Census Bureau's advanced report on international trade for February showed the trade deficit narrowed nearly -6% from the $68.8 billion recorded in January to $64.8 billion in February. That beat expectations of a gap between imports and exports of $66.4 billion. Imports fell -$4.2 billion to $191.6 billion, driven by a decline in auto and consumer goods imports. Exports also lagged during the month, dipping $0.1 billion to $126.8 billion, driven by a decline in exports of capital goods and foods, feeds, and beverages. Despite the drop in exports in February, on a year-over-year basis, exports are up a strong 6.7%, outstripping imports of 4.6%.
Personal Income Higher with Consumer Spending Flat
Personal income rose 0.4% to $57.7 billion in February, following a 0.5% increase in January. The rise in personal income was due to higher wages and rental income. Meanwhile, consumer spending remained relatively flat in February, up 0.1%, as the government has delayed issuing tax refunds as part of an effort to combat fraud. February's figures marked the smallest gain since August and followed an unrevised 0.2% increase in spending in January. A decline of -0.1% in purchases of big-ticket items like automobiles also contributed to the drop off in spending, along with lower spending on household heating bills due to unseasonably warm weather. Considering the delays in processing refunds, consumer spending looks to have been pushed from the first quarter to the second quarter and could lead to higher economic growth in Q2.
China Manufacturing Expands
Manufacturing continued to expand in China with the Purchasing Managers' Index (PMI) growing at its fastest pace in nearly five years, hitting 51.8 in March, up from 51.6 in February. Readings above 50 signal expansion, while readings below 50 indicate contraction. Output rose to 54.2, while new orders rose to 53.3. New export orders increased to 51, suggesting improvement in external demand. Employment appeared to stabilize during the month, with employment hitting the 50-point mark, indicating neither growth nor expansion. The reading was significant as it marked the first time the manufacturing sector did not shed jobs on a monthly basis since May 2012. The manufacturing sector also benefited from higher prices and a boom in the construction industry.
Markets this week regained their footing as investors looked to take advantage of the recent dip in markets to position themselves for the second quarter earnings season. Investor sentiment remains high on hopes that the White House will be able to successfully push through tax and trade reforms in the coming months. For now, the next big test for bulls will be the first quarter earnings season which kicks off in earnest the week of April 10th with big banks leading the way.
Next week we'll be tracking the jobs market as nonfarm payrolls are released. Also on tap are reports on U.S. manufacturing and non-manufacturing.
Let the Countdown Begin
There are just 18 days remaining until this year's April tax deadline which means there is still time to make your IRA contributions for the 2016 calendar year.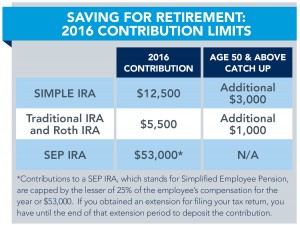 Individuals who haven't maxed out their retirement accounts will have until Tuesday, April 18th to make 2016 IRA contributions. The chart to the right shows the 2016 contribution amounts for various types of personal retirement plans. Click on the chart to enlarge view.
The deadline for yearly IRA contributions coincides with Tax Day, which is typically April 15th. However, we are in the midst of a three-year run without April 15th as Tax Day due to the timing of weekends and the celebration of Emancipation Day in the District of Columbia (D.C.).
If only Tax Day were as certain as, well… death and taxes. When the April 15th federal tax deadline falls on a weekend, as it does this year and next year, Tax Day moves to the following Monday. The date that our nation's capital observes the D.C. holiday of Emancipation Day can also change the official IRS Tax Day.
Emancipation Day commemorates the April 16th, 1862 date when Abraham Lincoln signed a law to end slavery in Washington. When the holiday falls on a Saturday, it is observed on the previous Friday, and when it falls on a Sunday, the holiday is celebrated the following Monday. Last year, the holiday was observed on Friday, April 15th, which pushed the federal tax deadline to the following Monday, April 18th, 2016. This year, Emancipation Day falls on Easter Sunday and will be observed on Monday, April 17th, so the federal tax filing deadline will be moved forward to Tuesday, April 18th, 2017. The IRS explained that D.C. holidays impact tax deadlines for everyone in the same way federal holidays do.
While we can't count on an April 15th Tax Day, individuals who haven't filed taxes or made their 2016 IRA contributions can count on more time to procrastinate.
Important Disclosure: The information contained in this presentation is for informational purposes only. The content may contain statements or opinions related to financial matters but is not intended to constitute individualized investment advice as contemplated by the Investment Advisors Act of 1940, unless a written advisory agreement has been executed with the recipient. This information should not be regarded as an offer to sell or as a solicitation of an offer to buy any securities, futures, options, loans, investment products, or other financial products or services. The information contained in this presentation is based on data gathered from a variety of sources which we believe to be reliable. It is not guaranteed as to its accuracy, does not purport to be complete, and is not intended to be the sole basis for any investment decisions. All references made to investment or portfolio performance are based on historical data. Past performance may or may not accurately reflect future realized performance. Securities discussed in this report are not FDIC Insured, may lose value, and do not constitute a bank guarantee. Investors should carefully consider their personal financial picture, in consultation with their investment advisor, prior to engaging in any investment action discussed in this report. This report may be used in one on one discussions between clients (or potential clients) and their investment advisor representative, but it is not intended for third-party or unauthorized redistribution. The research and opinions expressed herein are time sensitive in nature and may change without additional notice.