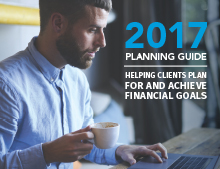 April 7, 2017
Markets continued their search for direction this week as investors sought to reconcile a weak jobs number against strong reports on manufacturing and services. The mood was notably muted as investors awaited President Trump and Chinese President Xi's late week summit. This was in part due to anticipation over the outcome of the discussions between the leaders on key economic issues such as trade and investment, but also due to the escalation of military action and rhetoric with respect to Syria and North Korea — the latter with which China plays a prominent role. Wednesday's release of the Federal Reserve's March Meeting Minutes refocused investors' interest on the Fed's balance sheet by suggesting the Fed will begin shrinking its massive $4.5 trillion portfolio of Treasury and mortgage securities later this year. Despite all this, markets were down slightly for the week, with the S&P 500 posting a -0.30% loss.
Jobs Whiff
There were big hopes for the jobs numbers after a string of previously strong reports. Forecasts were calling for 180,000 new jobs in March based on the recent strength seen in manufacturing and construction. Today's tally, however, proved to be way off the mark with nonfarm payrolls growing by just 98,000. Despite the big miss, there were several bright spots in the report. The unemployment rate fell to a 10-year low of 4.5%, while the rate that measures underemployed people (those in part-time positions seeking full-time positions) also fell three-tenths to 8.9% from 9.2%, the lowest level since December 2007. While the overall labor force participation rate was steady, the number of "discouraged workers" — those who don't believe there are jobs out there for them — is down by over 20% in the last year. Wage growth also remained healthy, with average hourly earnings up 2.7% on an annualized basis.
Markets took the jobs miss in stride as many analysts attributed the weak payroll growth to bad weather. In fact, Wednesday's ADP Report showed 263,000 jobs were added for the same measurement period, well above expectations. The discrepancy between the government data and the ADP report can be attributed to the way employed workers are counted. Government data doesn't count workers who can't make it to work for a week due to weather if they are not paid, whereas the ADP data does count those workers as employed and on the payroll. We saw this play out in March's Labor Department report with the construction industry adding just 6,000 workers, down sharply from a gain of 59,000 workers in February. The industry has struggled to fill jobs for some time, so the lack of jobs growth appears less about slowing worker demand than it does about methodology. As the spring thaw commences, most expect jobs to rebound, although with unemployment at 4.5%, we could start facing job growth deceleration — not on the demand-side but rather from the supply-side.
Factory Floors Keep Humming
U.S. factory floors continued churning out products in March with the Institute for Supply Management's (ISM) Manufacturing Index hitting 57.2, down slightly from a near three-year high of 57.7 in February. Readings above 50 indicate expansion, while readings below 50 indication contraction. Despite March's dip, the index notched a seventh consecutive month of industrial expansion with 17 of 18 manufacturing industries reporting growth. New export orders rose to 59.0 from 55.0 in February. Employment on the shop floor proved particularly strong, increasing to 58.9 in March from 54.2 the previous month. Despite recent setbacks for the Trump White House, businesses remain confident that tax, trade, and regulatory reforms are on the horizon.
87 and Counting
The U.S. ISM Non-Manufacturing Index rose for the 87th consecutive month. Although the index eased slightly to 55.2 in March from 57.6 in February, it remains firmly in expansionary mode. Leading the index higher was new export orders which increased to 62.5 from 57.0 in February. Imports also proved strong, rising from 51.0 in February to 56.5 in March. Those increases served to offset a slowdown in business activity/production and employment growth. In the report, firms noted that activity had eased somewhat during the month as companies awaited more clarity on healthcare reform and its impact on their bottom line. Despite the slowdown, businesses are maintaining their revenue projections as healthcare reform appears to be shelved for some time.
The Street just managed to tread water this week as the overall ledger, with respect to economic data, was a push. Add in a more bellicose posture from the U.S. towards North Korea suggesting its willingness to now take independent military action against North Korea, while backing that up a with a non-coalition cruise missile attack against Syria — all in the midst of Trump and Xi's first meeting — and it is understandable why investors found it hard to get coordinated this week. In fact, it is a little odd investors weren't more wary, but they're looking forward to Q1's earnings, which many analysts see as the market's best potential catalyst. Those are on tap next week as the major banks start their reporting next Thursday.
Markets, as well as Probity's offices, will be closed on Friday, April 14th in observance of Good Friday. Week in Review will also take a break from the action next week. Our next edition will be published on April 21st.
Take Charge of Your Financial Life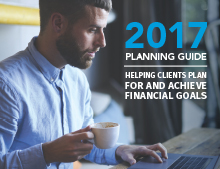 Probity Advisors, Inc. is committed to helping individuals and families achieve financial well-being, and we believe that a critical component of achieving financial wellness is the ability to make informed decisions. Our 2017 Planning Guide provides insights that will help you make the most of your money — both now and over the long term — with ongoing wealth planning guidance and education for many facets of your financial life. The guide is not intended to be a substitute for in person meetings with your advisors, but, rather, it is intended to help you take charge of your financial future and initiate and steer valuable discussions with your advisor and with family members.
A copy of our 2017 Planning Guide has been mailed to each of our clients and is also available on our website.
The 2017 Planning Guide addresses the following topics:
1. Financial considerations for each life stage
First job
Getting married
Starting a family
Advancing your career
Nearing retirement
Divorce or death of a spouse
Exiting or selling a business
2. How to make the most of your retirement accounts
Optimizing 401ks and IRAs
Making catch up contributions
Special considerations for business owners
3. The ABCs of saving for college
Overview of 529 Plans, Coverdell Education Savings Accounts, and the Federal Pell Grant
Explanation of the American Opportunity Tax Credit
Comparison of college savings plans
4. The importance of having a thoughtful estate plan
Protecting and providing for your family
Minimizing taxes
Controlling how your estate will be managed if something were to happen to you
5. Strategies for gifting and wealth transfer
Minimizing your tax burden while maximizing your giving intents
Estate and Gift Tax Exemption
Annual Gift Tax Exclusion
State Inheritance Tax
6. The happiness return: the relationship between money and happiness
Scientifically proven insights for utilizing assets to derive greater happiness
7. Financial Well-Being Checklist to help you manage your financial life
Easy to follow checklist of actions to consider to help you take charge of your financial life
Our expert advisors can help simplify the complexities of investing your assets, address the potential impact of various financial and estate planning decisions you may make, discuss ways to preserve your wealth, and help you achieve financial security. If you have any questions about your specific financial situation, even if you are not presently a client, please call our office at (214) 891-8131, and one of our advisors would be happy to speak with you.
Important Disclosure: The information contained in this presentation is for informational purposes only. The content may contain statements or opinions related to financial matters but is not intended to constitute individualized investment advice as contemplated by the Investment Advisors Act of 1940, unless a written advisory agreement has been executed with the recipient. This information should not be regarded as an offer to sell or as a solicitation of an offer to buy any securities, futures, options, loans, investment products, or other financial products or services. The information contained in this presentation is based on data gathered from a variety of sources which we believe to be reliable. It is not guaranteed as to its accuracy, does not purport to be complete, and is not intended to be the sole basis for any investment decisions. All references made to investment or portfolio performance are based on historical data. Past performance may or may not accurately reflect future realized performance. Securities discussed in this report are not FDIC Insured, may lose value, and do not constitute a bank guarantee. Investors should carefully consider their personal financial picture, in consultation with their investment advisor, prior to engaging in any investment action discussed in this report. This report may be used in one on one discussions between clients (or potential clients) and their investment advisor representative, but it is not intended for third-party or unauthorized redistribution. The research and opinions expressed herein are time sensitive in nature and may change without additional notice.