Thank you!
Simply click the link below to download your guide. Then be sure to sign up for our weekly market commentary e-mails – another insightful financial planning resource provided to you each week, free of charge. Scroll down to learn more!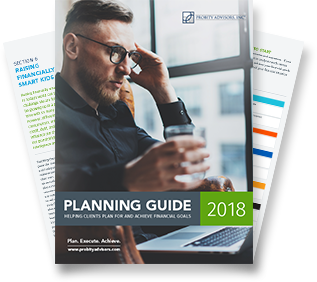 Planning Guide
Helping Clients Plan for and Achieve Financial Goals
2018
Get the new year started off right with our comprehensive financial planning guide.
Additional Resources Available to You
Subscribe to our weekly market commentary e-mails
Each week, our chief investment officer provides deep insight about current news, issues and legislative topics that are driving financial markets. See why our clients have called our market commentary e-mails "some of the most insightful, intelligent analysis of financial markets available on the Internet." Subscribe today.
Talk to an Advisor
People often find that professional advice and management are the keys to truly achieving their financial goals. At Probity Advisors, we want to help you do just that.
From assessing risks to helping you manage and grow your financial assets, we are here to provide customized service based on your unique situation. Simply enter your preferred contact information to schedule a no-cost, no-obligation consultation with one of our certified financial advisors.
Our Commitment to you
Your information will never be shared with any third-party organizations or used for any purpose other than keeping you informed with professional insight from our team.