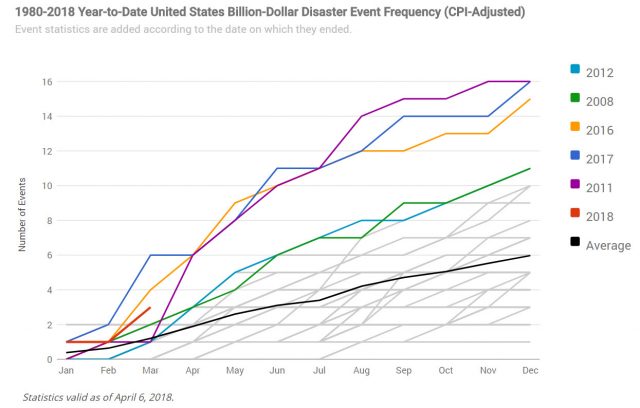 April 13th, 2018
Markets had their second consecutive winning week with the Dow Jones Industrial Average rising 1.80%. It was a strong start to the first quarter earnings season with financial giants JPMorgan Chase and BlackRock Financial posting better than expected results which drowned out economic reports showing rising prices. China managed to alleviate market concerns over a possible trade war with the U.S. by announcing it would further open its economy by lowering import tariffs on autos and reducing duties on other consumer products. Meanwhile, the Trump administration offered concessions making a revised NAFTA agreement more probable, while at the same time opening the door to the US joining the Trans-Pacific Partnership.
Banks Make Bank
JPMorgan Chase and BlackRock Financial kicked off the first quarter earnings season. For the first quarter, JPMorgan reported earnings per share of $2.37, beating expectations of $2.28 a share with earnings up 35% from year ago levels. Results were driven by an increase in client investment assets, stock trading, and double-digit card sales and merchant processing volume. BlackRock also reported earnings that beat expectations. Earnings for the quarter were $6.70 a share, above expectations of $6.39 a share. Earnings rose 28% from year ago levels helped in part by cash inflows and a lower tax rate. Client cash inflows totaled $57 billion in the quarter and helped push the firm's assets under management to $6.3 trillion. The company's iShares exchange-traded business continued to increase its market dominance by adding $34.6 billion of new client cash inflows. Although still early, there are a lot of expectations for the first quarter's earnings season, with profits expected to rise 18.60% from a year ago.
Producer Prices Coming in Hot
Producer prices rose more than expected in March in the latest sign that inflation is building in the economy. The producer-price index, a measure of the prices businesses receive for their goods and services, rose 0.30% in March from a month earlier, above expectations of 0.10%. The primary contributors were the sharp rise in food costs and price growth in the services sector, where healthcare costs accelerated in particular. Year-over-year, prices were up 3.00%, which if this were to sustain itself could be a troubling trend. Even excluding volatile food prices, so-called core producer prices rose 0.40% for the month and 2.90% from year ago levels.
Consumer Prices Ease in March
Even though producers suffered from higher prices in March, consumer prices actually dropped for the first time in 10 months. Consumer prices fell -0.10% in March driven by a -4.90% drop in the price of gasoline which helped to more than offset a 0.40% increase in healthcare costs, a 0.30% increase in rent prices, and a 0.10% increase in food prices. Year-over-year, prices rose 2.40%, their largest annual gain in a year and followed February's 2.20% increase. Excluding volatile food and energy prices, core producer prices rose 2.10% year-over-year in March, up from the 1.80% increase in February. As noted above, with core producer prices now growing more quickly than the 1.80% annual average they have experienced over the past 10 years, March's decline on the consumer side is likely to only be a temporary reprieve given that producers are facing the double whammy of tight labor markets and rising input costs. The odds are increasing that producers' price increases will soon be felt in consumers' pocketbooks.
Relative calm returned to the market this week. It was a welcome change following the recent turbulence. The market's buoyancy came from several places: a decline in trade and foreign political tensions, rising oil prices, tech shares recovering following Facebook's successful reckoning on the Hill over data privacy, steady jobless claim, not to mention a positive start for earnings season. Perhaps with so many distractions, the market was just too busy to focus on the inflation numbers. For a market that has been so anxious over the pricing implications of a potential trade war, it seems odd that the reality of prices actually rising at the producer level was summarily dismissed. The discussion largely focused on the price decline in the headline CPI number, rather than the underlying trend building at the producer's level. Had this same news been revealed in the calm of January, we expect the market would have reacted far differently, but that just goes to show that timing is everything. Instead, investors took a sigh of relief from the lower volatility.
The Week Ahead
We'll continue to monitor first quarter earnings results along with the latest snapshot of U.S. consumer spending as retail sales are released. Overseas, China releases first quarter GDP data.
Wild Weather Ride
Last week, the National Oceanic and Atmospheric Administration (NOAA) reported that the U.S. has already endured three significant weather disasters this year that each resulted in more than $1 billion in damages, and it's only April.
Winter Storm Grayson in January was the first of four nor'easters to hit in 2018. It swept through parts of more than a dozen states. You might remember it was called a "bomb cyclone" which is characterized by a powerful low pressure system that intensifies rapidly. It typically forms over water where a drop in barometric pressure gives the storm explosive strength. Grayson brought heavy snow, sleet, freezing rain, hurricane force winds, historic high tides, and coastal flooding along the Eastern Seaboard, causing significant damage, including fires to homes where conditions prevented emergency crew access. Schools in at least four states were canceled, many people lost power, and thousands of flights were grounded. The nor'easter that hit on March 1-3 also resulted in more than $1 billion in damages. The storm brought high winds, heavy snow, and coastal erosion that caused extensive damage. In mid-March, a storm system brought more than 20 tornadoes across Alabama and Georgia, widespread hail damage from Texas to Florida, and damaging winds to the Southeast.
The National Centers for Environmental Information (NCEI), a division of NOAA, chronicles weather and climate disasters in the U.S., including floods, severe storms, droughts, wildfires, and crop freeze events, and documents their impact and costs. They gather data from the Federal Emergency Management Agency, U.S. Department of Agriculture, U.S. Army Corps, insurance firms, and other entities in order to measure costs related to damages to buildings, property, and agricultural assets, as well as the costs associated with disaster restoration and wildfire suppression.
With the unbelievable start to 2018, some might wonder how this year compares to years past. In terms of first-quarter billion-dollar events, 2018 had fewer than the six billion-dollar weather events at the start of 2017 and there were four in early 2016. The NCEI shared the following chart of weather and climate events that have had at least a $1 billion economic impact from 1980 to April 6, 2018.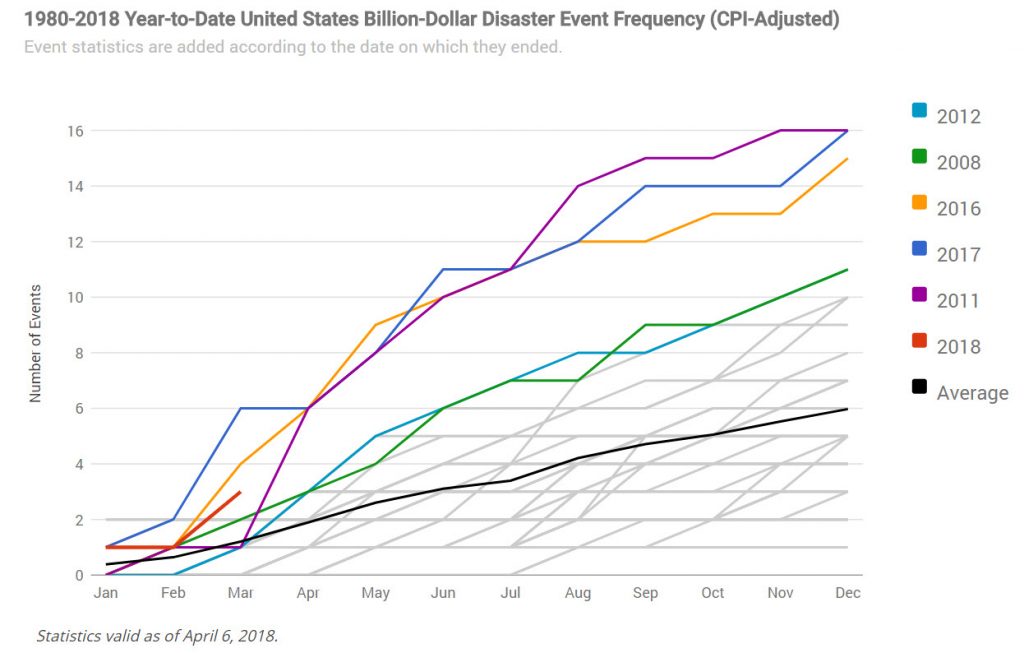 In 2017, there were 16 separate billion-dollar disaster events, which tied 2011 for the most ever in a calendar year. NOAA reported that the cumulative cost of the weather disasters last year exceeded $300 billion, a new U.S. annual record. The previous annual record cost of weather disasters was $219 billion in 2005 based on the impact of Hurricanes Katrina, Rita, Dennis, and Wilma. The graphic below shows the 2017 billion-dollar weather and climate disasters across the country.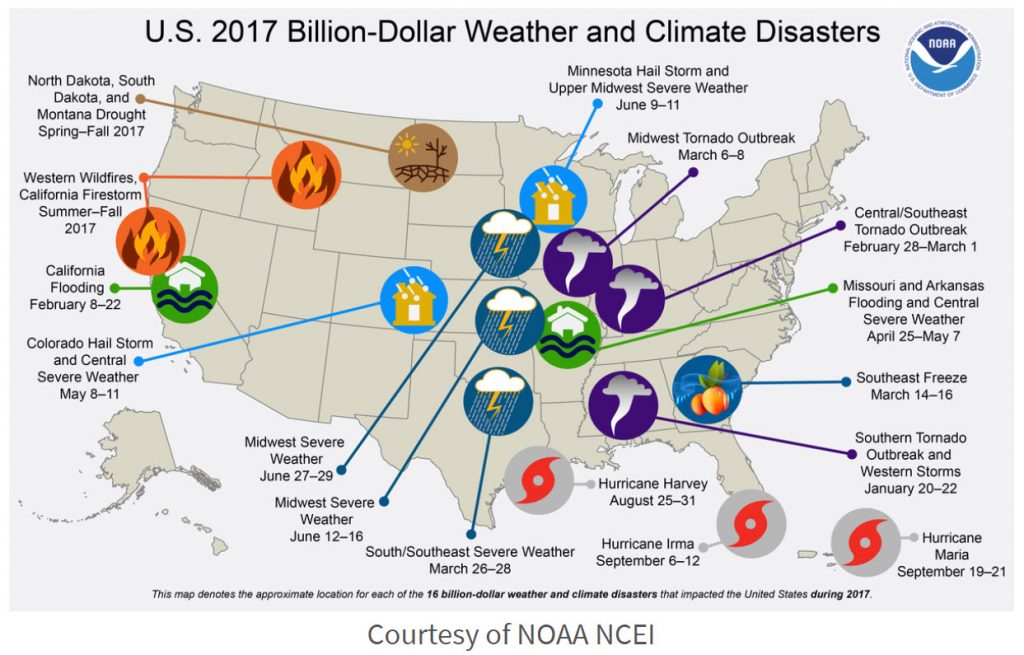 NCEI reports that every state in the country has been impacted by at least one billion-dollar disaster since 1980. More than 95 of these disasters have affected at least some parts of Texas, while only one event has impacted Hawaii (Hurricane Iniki in 1992).
This weekend is expected to bring more severe and wild weather to the U.S., including heavy snow in the north-central U.S. with some areas seeing an unusual April blizzard. Tornadoes and hail are in the forecast for eastern Texas to the Carolina coast. Heavy rain is forecast for some parts of the Southeast that could lead to flash flooding. Six states are currently under a blizzard warning from Winter Storm Xanto that could bring historic snowfall and extreme winds from the Plains to the Great Lakes. Summer temperatures are forecast for parts of the East Coast today and tomorrow, and record high temperatures are possible in New England. Philadelphia is forecast to see its first 80-degree days of the year this weekend, and high temperatures will be some 15 degrees above average in the Mid-Atlantic and Northeast. It must be Friday the 13th.
Important Disclosure: The information contained in this presentation is for informational purposes only. The content may contain statements or opinions related to financial matters but is not intended to constitute individualized investment advice as contemplated by the Investment Advisors Act of 1940, unless a written advisory agreement has been executed with the recipient. This information should not be regarded as an offer to sell or as a solicitation of an offer to buy any securities, futures, options, loans, investment products, or other financial products or services. The information contained in this presentation is based on data gathered from a variety of sources which we believe to be reliable. It is not guaranteed as to its accuracy, does not purport to be complete, and is not intended to be the sole basis for any investment decisions. All references made to investment or portfolio performance are based on historical data. Past performance may or may not accurately reflect future realized performance. Securities discussed in this report are not FDIC Insured, may lose value, and do not constitute a bank guarantee. Investors should carefully consider their personal financial picture, in consultation with their investment advisor, prior to engaging in any investment action discussed in this report. This report may be used in one on one discussions between clients (or potential clients) and their investment advisor representative, but it is not intended for third-party or unauthorized redistribution. The research and opinions expressed herein are time sensitive in nature and may change without additional notice.