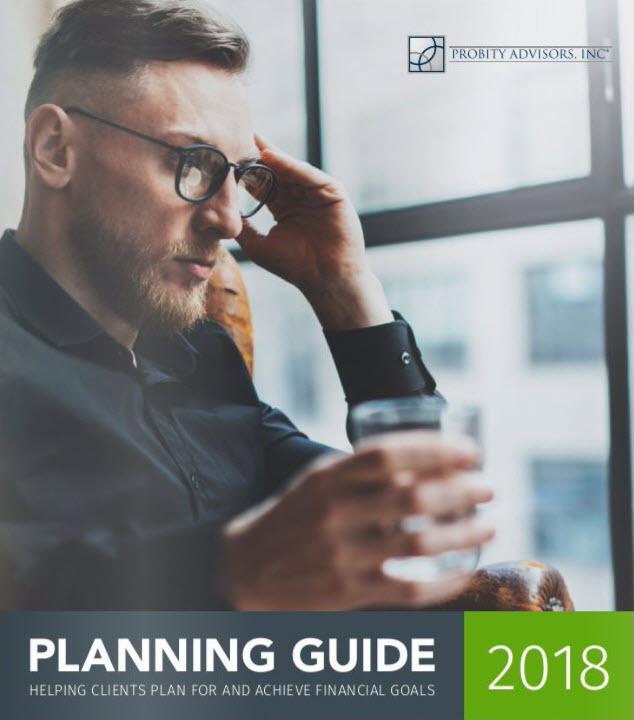 January 5th, 2018
Markets rang in the new year with the same enthusiasm as last. The Dow managed to post a 2.33% gain for the week. The jobs report was the number one data item this week, and while the number itself missed expectations for a variety of explained reasons (holiday season, strength of previous readings, scarcity of labor in tightening market), the overall report continues to paint a very strong labor market picture with unemployment hovering around 4.1%. In fact, 2017 will go down as the best labor market in seventeen years, hearkening back to the dot com era. Fortunately, this time around, new hires are not widely incentivized to join firms with bundles of stock options and offers of brand new, company paid BMW leases. In retrospect, maybe it should have been obvious that the writing was on the wall for the bubble that was ballooning in Silicon Valley at the time.
Keeping up with 25,000
The bigger headline this week was the Dow crossing and closing above the 25,000 level. These milestones mean little from an analytical standpoint. Some may make a technical trading argument that doing so represents a level of demand is present and resistance has been disrupted assuring a new breakout higher. Certainly, a higher Dow means a higher valuation which Dow companies will now have to "earn" through stronger profitability or share buybacks to keep such a level reasonably in line. For us, the commotion around the Dow's level this week had us again reminiscing about the late stages of the dot com era (1999) when James Glassman and Kevin Hassett released their book — Dow 36,000 — in which they argued that the Dow would surpass 36,000. In retrospect, the release of Dow 36,000 could not have been timed any worse, ultimately becoming another punchline to the drunken dot com era. At the time of the release, the Dow hovered around its historical highwater mark (11,000), from which it retrenched to around 7,200 by late 2002. The Dow recovered to 14,000 by late 2007, before retrenching again to 6,600 by March 2009 and then embarking on its most recent "historic" run. As a side note, Kevin Hassett is the current Chairman for the White House's Council of Economic Advisors. He has played a visible role in arguing and communicating the merits of the new Republican-led tax plan, and the architect of some of the analytical arguments supporting that case.
The High Notes
While many of the specifics in the technique Glassman and Hassett used to justify a Dow at 36,000 have largely been discredited, the fact is that we are at all-time highs — maybe not 36,000 but still pretty darn high. As you might expect, we've spent a significant amount of time trying to determine the validity of where we are and the most probable path for the economy and markets looking forward in 2018, and given the light data and the Dow, we thought this week might be a good time to address some of what we suspect is on your mind. Space does not allow for a full dissertation on this topic, and if you've stuck with us this long in the piece, we'll just try to stick to the high notes.
Many argue that "This market has been too good for too long. Something has got to give." Economists have a wonderful way of dealing with this. It is called sunk cost. Past wins or losses should not influence future decisions, no matter how beneficial or costly those past wins or losses were. If you win 20 straight coin flips, the next flip's probability is still 50/50. That is not to say you don't take some money off the table if you're statistically ahead, but whatever chips you're putting down for the next round should be placed 100% on the perceived opportunity and probability ahead.
Taking this from theory to practice, as your investment advisors, we try to focus on the measures of economic stability, the trend, factors that will influence profitability, and how these will influence the overall demand for different types of securities. Going on nearly nine years of an expansion, it is hard to imagine that we are not anywhere other than in the latter stage of the business cycle, but that is not what the data show. You could reasonably argue that the data look more like a mid-stage and maybe even an early stage recovery. GDP was good in the third quarter and is expected to be stronger in the fourth. Momentum appeared to build through the end of the year and will carry into the first quarter of 2018. The recent snow storms will play havoc on the reading, but it will probably get discounted by the markets. Unemployment is at 4.1%. Wage growth has been soft, but inflation has also been low, and as the labor market gets tighter, at some point wages will have to grow faster. Global manufacturing is accelerating. Interest rates are low and, despite the Fed raising rates in 2018, they are expected to remain low. Inflation is expected to remain well under control.
For years, the U.S. and China have been the world's economic ballast, with the EU, UK, and Japan meandering in and out of recession. The EU, UK, and Japan are showing definite signs of life, suggesting that the developed world will all now be pulling in the same direction. This has been an unloved economy and a hated bull market for most of its existence, and despite this skepticism, consumer sentiment is quite high. A poll of 60 economists by the Wall Street Journal in early December indicated only around a 15-20% chance of a recession in 2018, and two-thirds of those economists believe that there is a greater probability the economy will outperform expectations (i.e. base growth being 2.5-3.0%), with approximately 20-25% seeing downside risk.
Turning to profitability and asset demand, low interest rates certainly help, as will the Republican tax plan in the short term. Even if you discount trickle-down economics longer term, there is at least a one-time pop out of repatriation of profits. This will put more dollars near term in the hands of corporations, shareholders, and, potentially, workers, meaning more share buybacks, dividends, investment demand, and perhaps greater personal consumption. Again, in the short term, all supportive.
Despite all this sounding very bullish, we are not making the case for a Dow 36,000, 30,000 or even 27,500. We don't know. What we are saying is that to the degree these different data points ultimately influence the market's direction, we are lining up the pieces to determine what is more probable — the market going up or the market going down (setting unknowable shocks aside). Looking at the data this way, you have to think it is the former.
We have been asked, "What keeps you up at night?" The short answer is a lot. We don't sleep that well in general. At our core, we are value managers, and this market passed the absolute value levels somewhere around the end of 2015. Up to that point in this recovery, we could look through the choppiness and inconsistency of data and always feel we would be on the right side of history. For better or worse, those days are behind us. Asset valuations by historical measures are at the high end of acceptable as far as we are concerned. We realize that all this may sound a bit fatalistic. We're not. Markets are forward-looking and, in theory, they've run these valuations up believing future results (based on all the arguments we've made previously above) will bring those valuations right back in line. We just prefer buying when we know there is absolute value, not just the potential for value. What we are left with today is buying relative values. We're left avoiding those classes that look grossly overvalued and focusing on the best names in those classes that are fairly-valued.
Risk Premia
Perhaps the thing that leads to the most sleeplessness is the very factor upon which Dow 36,000 was predicated on in the first place, namely falling risk premia. Valuations are based on the combination of the perceived economic benefit an investor will receive multiplied by a factor ("multiple") that someone is willing to pay for that economic benefit. In turn, the multiple that someone is willing to pay for an asset is largely influenced by how risky different investors believe the economic benefit will be. The higher the risk, the lower the multiple. The lower the risk, the higher the multiple. Asset valuations are inversely related to risk — or more aptly the investor's perceived risk at the time. Low interest rates and low volatility (by historical standards) have combined to drive risk premia to low levels. While these risk premia may be justified based on current conditions, this is occurring in a monetary environment that will reverse — not in the immediate future — but longer term. That will force a recalibration that will either need to be offset by stronger fundamental growth, which is less certain, or the less desirable route, through lower valuations.
Alas, this a concern we'll save for a future date, and as we look ahead in 2018, we do believe the arguments for clients remaining invested outweigh those to becoming significantly defensive despite the duration of this bull market. Of course, all this should not go without saying that every investor's situation is different, and it should all be considered in the context of where you are in life.
This is not just a shameless plug for financial planners and advisor partners, but rather an honest acknowledgement that the work we do as asset managers only makes sense when done in the context of a design that considers your larger financial goals. We thank you all for your continued friendship and support, and we hope 2018 will be another prosperous year for everyone.
Take Charge of Your Financial Life
Probity Advisors, Inc. is committed to helping individuals and families achieve financial well-being, and we believe that a critical component of achieving financial wellness is the ability to make informed decisions. Our 2018 Planning Guide provides insights that will help you make the most of your money — both now and over the long term — with ongoing wealth planning guidance and education for many facets of your financial life. The guide is not intended to be a substitute for in person meetings with your advisors, but, rather, it is intended to help you take charge of your financial future and initiate and steer valuable discussions with your advisor and with loved ones.
A copy of our 2018 Planning Guide will be mailed to each of our clients.  If you are not currently a client of Probity Advisors and would like to receive a copy of the guide, please contact our office at (214) 891-8131.  The Guide addresses the following topics:
1. Financial considerations for each life stage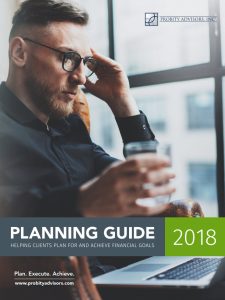 First job
Getting married
Starting a family
Advancing your career
Nearing retirement
Divorce or death of a spouse
Exiting or selling a business
2. How to make the most of your retirement accounts
Optimizing 401ks and IRAs
Making catch up contributions
Special considerations for business owners
3. The basics of budgeting
Understanding the four primary spending categories
Gaining freedom with your money by developing a plan for how you spend it
Redirecting spending to your priorities
4. Taking your Required Minimum Distribution (RMDs)
Guidelines for RMDs
Minimizing taxes
Using your RMD to make Qualified Charitable Distributions
5. Sustaining family wealth
Understanding human capital, intellectual capital, and financial capital
Preparing for a transfer of wealth
Developing a family governance system
6. Raising financially smart kids
Teaching the next generation financial literacy
Important money concepts such as debt, saving, charitable giving, and happiness
7. Financial well-being checklist to help you manage your financial life
Easy to follow checklist of actions to help you take charge of your financial life
Our expert advisors can help simplify the complexities of investing your assets, address the potential impact of various financial and estate planning decisions you may make, discuss ways to preserve your wealth, and help you achieve financial security. If you have any questions about your specific financial situation, even if you are not presently a client, please call our office at (214) 891-8131, and one of our advisors would be happy to speak with you.
Important Disclosure: The information contained in this presentation is for informational purposes only. The content may contain statements or opinions related to financial matters but is not intended to constitute individualized investment advice as contemplated by the Investment Advisors Act of 1940, unless a written advisory agreement has been executed with the recipient. This information should not be regarded as an offer to sell or as a solicitation of an offer to buy any securities, futures, options, loans, investment products, or other financial products or services. The information contained in this presentation is based on data gathered from a variety of sources which we believe to be reliable. It is not guaranteed as to its accuracy, does not purport to be complete, and is not intended to be the sole basis for any investment decisions. All references made to investment or portfolio performance are based on historical data. Past performance may or may not accurately reflect future realized performance. Securities discussed in this report are not FDIC Insured, may lose value, and do not constitute a bank guarantee. Investors should carefully consider their personal financial picture, in consultation with their investment advisor, prior to engaging in any investment action discussed in this report. This report may be used in one on one discussions between clients (or potential clients) and their investment advisor representative, but it is not intended for third-party or unauthorized redistribution. The research and opinions expressed herein are time sensitive in nature and may change without additional notice.