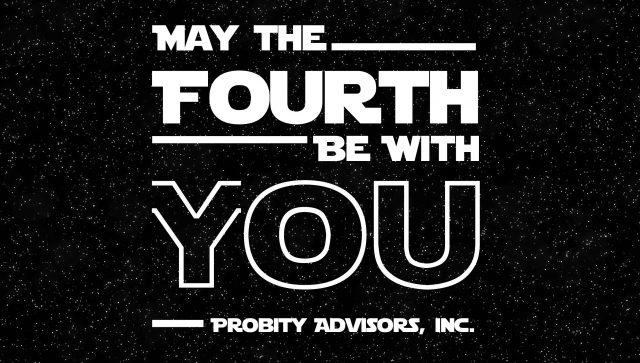 May 4th, 2018
Markets declined slightly this week, pressured once again by the prospect of rising interest rates and the continued trade impasse with China and Europe. Despite the Fed voting on Wednesday to hold interest rates steady and to maintain its gradual rate hike path, the Federal Open Market Committee's guidance failed to shed any new light to help investors chart a path forward. On the economic front, strong jobs and manufacturing numbers indicate the economy is continuing to operate right in the bull's eye. It took a 300+ point Dow rally on Friday to salvage what was otherwise a tentative week, with the Dow 30 down -0.20% for the week.
Unemployment Rate Hits 18-Year Low
It was another strong jobs report for the labor market as the unemployment rate fell to 3.90% in April. This is its lowest level in 18 years. Businesses added 164,000 to the payrolls during the month, up from March's upwardly revised 135,000 payroll increase. Job gains were broad-based, with professional and business services adding 54,000 new jobs, healthcare and manufacturing each adding 24,000 jobs, and mining added 8,000 jobs. The all-important wage number, which market watchers have been following for signals of faster Fed tightening, rose at a 2.60% annualized rate. This is down slightly from January's 2.80% annualized rate which sparked the market's inflationary concerns. The month's modest wage growth shows wage pressures remain under wrap, suggesting the Fed won't be forced to deviate from its signaled path.
Fed Holds Rates Steady
The Federal Reserve voted this week to hold interest rates steady between 1.50% and 1.75%. This pause was generally expected following the 0.25% bump in March. Top of mind for Fed watchers, however, was how the Fed would communicate its current outlook in lieu of the fact that several inflationary measures now appear to be accelerating. In their statement and comments following, Fed officials did acknowledge the recent uptick in the inflation reading but indicated they would maintain their gradualness even if inflation were to run slightly above its 2.00% target level. In using the 2.00% as a guide and not strictly a line, the Fed, in effect, has prioritized jobs over prices, and even though the labor market is tight, that has yet to translate into any meaningful wage inflation. With wages growth averaging 2.60% for three consecutive months, the Fed's take is that inflation more broadly remains under control, and while 2-3 more hikes are still on the table this year, these appear to be being contemplated in the context of normalization in response to economic growth rather than being necessary to combat inflation.
Manufacturing Bucks Tariffs
U.S. factory activity continued to expand in April with the Institute for Supply Management (ISM) Index hitting 57.3, down slightly from March's 59.3 reading. Numbers above 50 indicate expansion in the manufacturing sector while numbers below 50 indicate contraction. New orders, production, exports, imports, and employment all increased during the month, although at a slower rate from the previous month. Production and employment both dropped more than 3 points from March to 57.2 and 54.2, respectively. The declines were driven mainly by tight labor markets, making it harder for businesses to find skilled workers to fill the factory floors. While the numbers softened slightly, it was another strong report and notwithstanding recently announced tariffs, manufacturers remained optimistic, citing strong demand in the U.S., Europe, and Asia.
Markets as of late have become handcuffed by the very Goldilocks scenario it has so desired – moderate to strong growth, record earnings, low unemployment and contained inflation. Naturally, now that it is here, the immediate concern has become "how does this end" and rates are the natural, potential culprit. Rate normalization is just part of an economic cycle, but there is a delicate balance between rate levels that allow for sustainable growth and those that result in overheating or snuffing the economy altogether. History shows this. The two main takeaways from this week's news were that 1) the Fed is going to be somewhat relaxed on their strict adherence to an arbitrary 2.00% inflation line, and 2) that America is at full employment without major inflationary forces mounting that the Fed feels compelled to get ahead of. That, in conjunction with the ISM numbers, are about as good as one could hope for. None of these facts will change the market's longer term wariness over when this bull market will end, in the same sense that getting a day older just puts you one day closer to death. But, for the time being, it appears the economy is throttled just right, which should help desensitize markets to the daily rate concerns to which they've been captive this year.
The Week Ahead
Markets will be combing through consumer and producer price reports for signs of inflation. In international news, China will provide us the latest snapshot of global demand as it releases its export/import numbers.
Happy May the Fourth
Today is no ordinary day. It's May the Fourth which means that fans of the Star Wars movie franchise will be turning out in full force — or full fourth — to celebrate what has become known as Star Wars Day around the world.
The term is a play on a quote from the movie, "May the Force be with You." The pun on the catchphrase is reported to have originated from a May 4, 1979 newspaper ad in the London Evening News that congratulated Margaret Thatcher on the day she took office as the first ever female Prime Minister of Britain. The ad stated, "May the Fourth Be With You, Maggie. Congratulations." This was two years after the first Star Wars film was released, and Star Wars had already established its foothold in pop culture and in sci fi fandom circles worldwide.
For enthusiasts of the Star Wars movie franchise, May the Fourth is an opportunity to participate in a Star Wars movie marathon, don a Star Wars costume, talk like Yoda, choreograph a lightsaber fight, listen to the Imperial March at full volume, and generally do all things considered nerdy. The good news is that you don't have to travel to a galaxy far, far away to celebrate.
Lastly, as Yoda said, "Pass on what you have learned," and feel free to forward our Week in Review.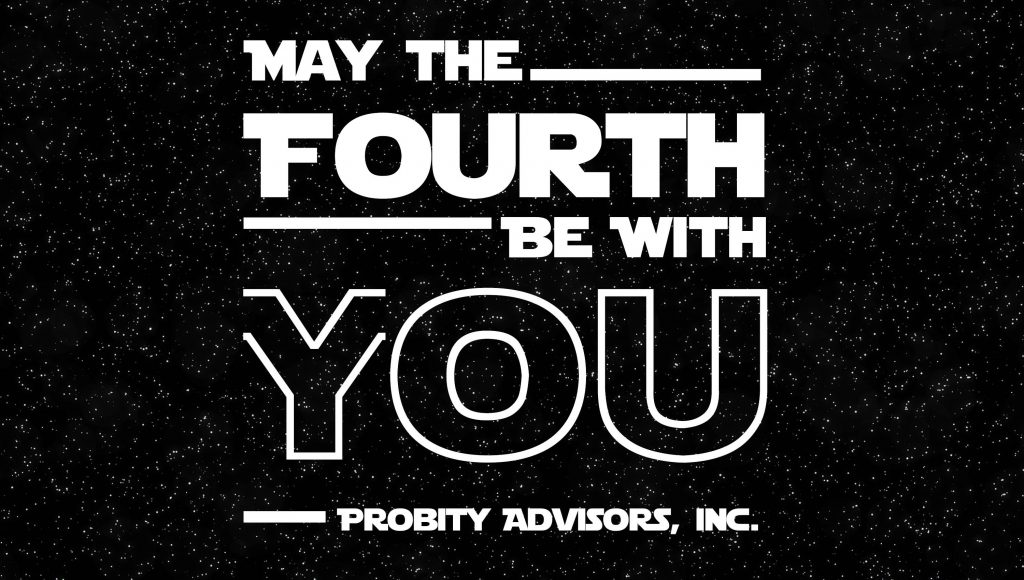 Important Disclosure: The information contained in this presentation is for informational purposes only. The content may contain statements or opinions related to financial matters but is not intended to constitute individualized investment advice as contemplated by the Investment Advisors Act of 1940, unless a written advisory agreement has been executed with the recipient. This information should not be regarded as an offer to sell or as a solicitation of an offer to buy any securities, futures, options, loans, investment products, or other financial products or services. The information contained in this presentation is based on data gathered from a variety of sources which we believe to be reliable. It is not guaranteed as to its accuracy, does not purport to be complete, and is not intended to be the sole basis for any investment decisions. All references made to investment or portfolio performance are based on historical data. Past performance may or may not accurately reflect future realized performance. Securities discussed in this report are not FDIC Insured, may lose value, and do not constitute a bank guarantee. Investors should carefully consider their personal financial picture, in consultation with their investment advisor, prior to engaging in any investment action discussed in this report. This report may be used in one on one discussions between clients (or potential clients) and their investment advisor representative, but it is not intended for third-party or unauthorized redistribution. The research and opinions expressed herein are time sensitive in nature and may change without additional notice.