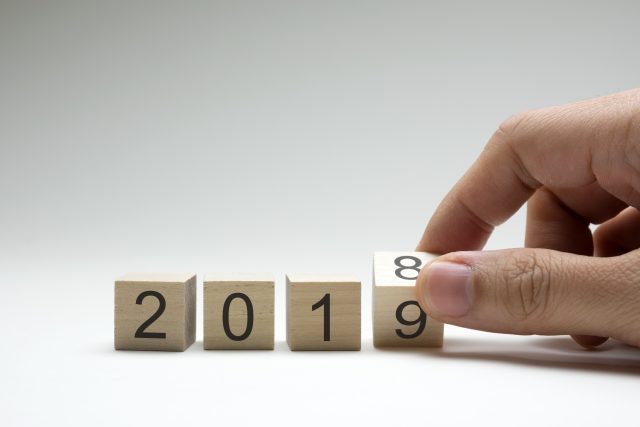 December 14th, 2018
With ten days 'til Christmas, non-fundamental items continue to loom over Wall Street like the Grinch over Whoville. The week kicked off on a down note as the Trump administration and Democrats tussled over a possible government shutdown, which could commence as early as next week. Adding to the sour mood, Prime Minister Theresa May scrapped plans to put her Brexit compromise with the EU before Parliament once it became clear she did not have the numbers to pass the deal. May's pulling of the vote, and her subsequent challenge from a vote of no-confidence from her own party, makes it increasingly probable that the U.K. could face a hard exit from the common trade alliance and spell trouble for the U.K.'s economy next year. The negative signals this week overshadowed marginally improving developments between China and the U.S. This week, China made good on its promise to purchase more U.S. agricultural products, making its first major U.S. soybean purchase in more than six months. China paired this with temporarily slashing tariffs in auto imports, while Trump sought to diffuse matters further by indicating that a release of Huawei's CFO could be part of a larger trade deal. The hope is that these gestures will build goodwill and provide momentum for the forthcoming trade discussions. Amid the political headlines, U.S. economic data continued to shine bright as consumers eagerly scooped up holiday deals to push retail sales higher in November, while price data showed that inflation remains tame. The same positive tones could not be said for China and the EU, where disappointing data had investors feeling just like little Cindy Lou Who. The Grinch had his way, and the Dow did fall, leaving investors simply stymied to account for it all. For the week, the Dow finished down -1.18%.
U.S. Holiday Shoppers Fill Their Stockings while Chinese Consumers Get Coal
U.S. holiday shopping is in full swing, with consumers buying up a host of goods from furniture to electronics. Retail sales excluding automobiles, gasoline, building materials, and food services rose 0.90% in November, up from an upwardly revised 0.70% increase in October. Gains were broad-based with online and mail-order sales leading the way, up 2.30% for the month. That was their largest gain in a year and followed a 0.80% rise in October. Electronics and appliance store sales rose 1.40%, while furniture store sales increased 1.20%. The strong holiday shopping season bodes well for Q4 GDP growth as consumer spending comprises two-thirds of GDP. While U.S. consumer confidence remains high, Chinese consumers are growing cautious. This fact was reflected in China's retail sales figures released Friday, which showed sales grew by their slowest rate in fifteen years. The toll of tariffs, its impact on China's industrial production, and eventually jobs and wages is beginning to permeate through the supply chain, and it points to continued slowing abroad. One of the larger questions for markets remain whether a trade deal can be reached, and global momentum regained, before the deceleration seen abroad gets imported stateside.
The Price is Just Right
Consumer prices held relatively steady in November as the Consumer Price Index, which measures the change in prices paid by consumers for goods and services, remained unchanged from October to November. Year-over-year, prices rose 2.20%, down from October's 2.50% rise. Falling gasoline prices helped to offset increases in the price for shelter and medical services. The core inflation rate, which excludes volatile items such as food and energy, rose 0.20% in November and 2.20% from the year earlier period. Producer prices, which are prices businesses receive for their goods and services, rose 0.10% in November, down from October's 0.60% increase. Year-over-year, producer prices rose 2.50%, slowing from October's 2.90% increase and a recent peak of 3.40% this summer. A drop in energy prices, which have fallen by a third, have really helped to push the headline number lower. Core producer prices, which exclude volatile food, energy, and trade services, rose 0.30% in October. Year-over-year, core producer prices rose 2.80% in November, matching October's annualized gain. The increase in core goods prices likely reflects the impact of the Trump administration's tariffs on lumber, steel and aluminum imports, as well as a range of Chinese goods. Still, producers do not appear to be willing to pass much of those increases on to consumers, concerned higher prices could hurt demand. Overall, consumer prices remain in check and near the Fed's 2.0% target level. This was good news for markets with a number of factors now falling in place to take some of the urgency off the Fed to raise rates as aggressively as we enter 2019.
Despite all the negative headlines, markets had managed to put together a decent week at Thursday's close. Unfortunately, Friday's industrial production figures from the EU and China gave investors new concerns, signaling a slowing global economic trend for 2019. While the numbers disappointed Wall Street, a Chinese economic slowdown actually strengthens the U.S.'s hand as it enters a critical negotiating period, and what the markets want more than anything for Christmas is a U.S./China trade deal. Throughout this year, the U.S. economy has been capable of maintaining its momentum, supported by strong business and consumer spending despite retaliatory tariffs and headwinds from abroad. This week's holiday retail sales data shows the U.S. consumer is continuing to play its role as a pillar to the domestic economy, having benefited from a strong jobs market and steady wage growth. Still, the fact remains that the U.S. can only be resilient to global realities for so long, but who is to say? After all, even the Grinch's heart grew three sizes in a day.
The Week Ahead
It's a big week for the markets as the Federal Reserve holds its last Federal Open Market Committee meeting of the year, where it is widely expected to hike interest rates for the fourth time this year. Economic data will be light with durable goods orders being the highlight of the week. In overseas action, we'll check in with the U.K. as it releases figures on retail sales and nears its Brexit deadline.
7 Things to Put on Your Year-End Financial Checklist
With the end of the year fast approaching, now is a great time to take stock of your personal finances to make sure you are on track to reach your goals. Below are seven financial moves to consider making before the end of the year. This list is by no means exhaustive, and we recommend meeting with your advisor at least annually, if not more frequently.
1. Max Out Your 401(k).
The maximum amount of money you can contribute to your 401(k) in 2018 is $18,500. Workers age 50 and older can contribute an additional $6,000. The chart below shows the contribution limits for a variety of retirement accounts. If you have not met the contribution limit, consider putting any year end bonuses you may receive towards your 401(k).
2. Take Advantage of Employer Contributions.
Be sure to take advantage of any matching contributions from your employer. For example, if you earn $100,000 per year and save 6% of your pay, or $6,000, and if your employer matches half of that, you could get another $3,000 from your employer in matching contributions. Don't pass up the "free money" you might get through a matching program. If you are not receiving the full match, consider talking to your employer about increasing your 401(k) paycheck deductions.
3. Max Out Your IRA.
You can contribute up to $5,500 to an IRA in 2018. Workers age 50 and older can contribute an additional $1,000 to an IRA. Unlike 401(k) contributions which generally need to be made by December 31st, individuals have until the April tax filing deadline to fund their IRA for the prior year. The tax deduction for IRA contributions may be limited if you or your spouse is covered by a workplace retirement plan.
4. For Business Owners, Make Your Company's Retirement Plan Contribution.
If you offer employees a SEP, Profit Sharing Plan, or other type of retirement savings benefit, you must deposit contributions by the due date (including extensions) for filing your federal income tax return. If you obtain an extension for filing your tax return, you have until the end of that extension period to deposit the contribution, regardless of when you file the return.
5. Use the Money in Your Flexible Spending Account (FSA).
FSAs are tax-free accounts in which you can contribute money that will pay for services that your health care coverage doesn't cover. Generally, FSAs are "use it or lose it" so if you have money remaining, you should spend the balance of your account on qualified medical expenses before the end of the year. Your employer may allow you a grace period or rollover amount, so check to see if you have flexibility in spending these dollars.
6. Don't Forget to Take Your Required Minimum Distribution (RMD).
Starting the year that you turn 70 ½, the IRS requires that you withdraw at least a minimum amount from your retirement account annually. If you are over age 70 ½, you should review your RMDs to ensure you've withdrawn enough to avoid paying a penalty to the IRS.
7. Review Estate Documents.
To help ensure that your estate plan stays in tune with your goals and needs, you should review and update it on an ongoing basis to account for any life changes. If you haven't done so recently, take time to review beneficiary designations to ensure there are no updates needed, review trustee appointments, and review provisions of powers of attorney and health care directives.
2018 Retirement Account Contribution Limits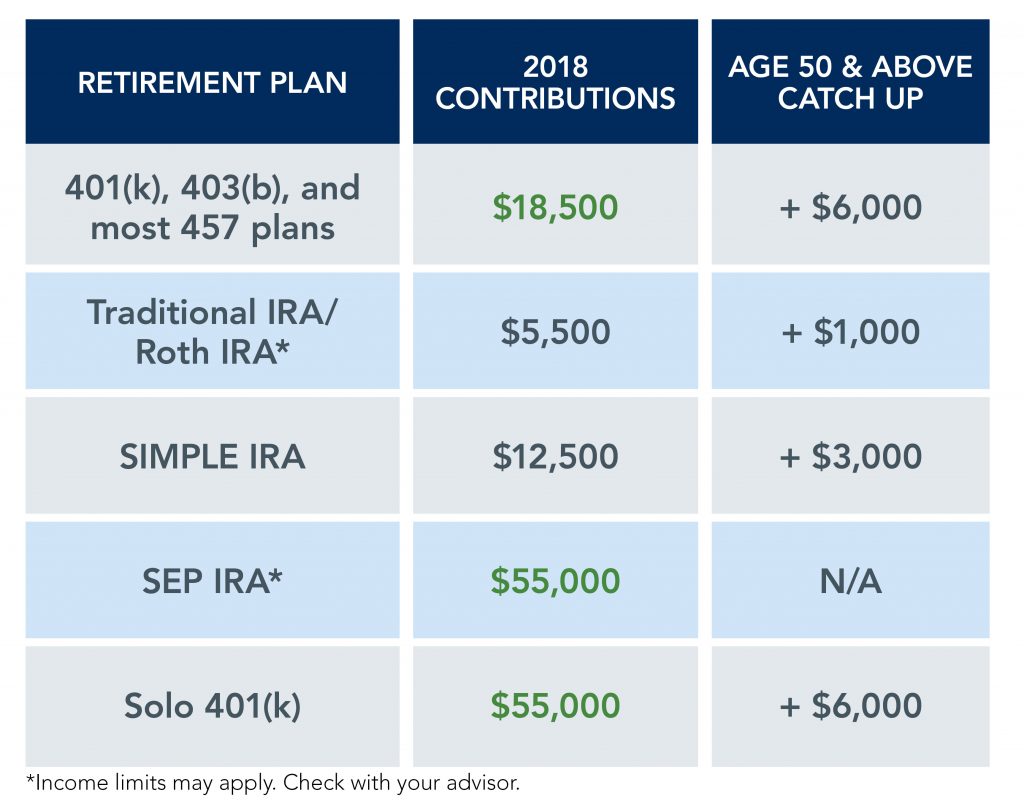 Important Disclosure: The information contained in this presentation is for informational purposes only. The content may contain statements or opinions related to financial matters but is not intended to constitute individualized investment advice as contemplated by the Investment Advisors Act of 1940, unless a written advisory agreement has been executed with the recipient. This information should not be regarded as an offer to sell or as a solicitation of an offer to buy any securities, futures, options, loans, investment products, or other financial products or services. The information contained in this presentation is based on data gathered from a variety of sources which we believe to be reliable. It is not guaranteed as to its accuracy, does not purport to be complete, and is not intended to be the sole basis for any investment decisions. All references made to investment or portfolio performance are based on historical data. Past performance may or may not accurately reflect future realized performance. Securities discussed in this report are not FDIC Insured, may lose value, and do not constitute a bank guarantee. Investors should carefully consider their personal financial picture, in consultation with their investment advisor, prior to engaging in any investment action discussed in this report. This report may be used in one on one discussions between clients (or potential clients) and their investment advisor representative, but it is not intended for third-party or unauthorized redistribution. The research and opinions expressed herein are time sensitive in nature and may change without additional notice.