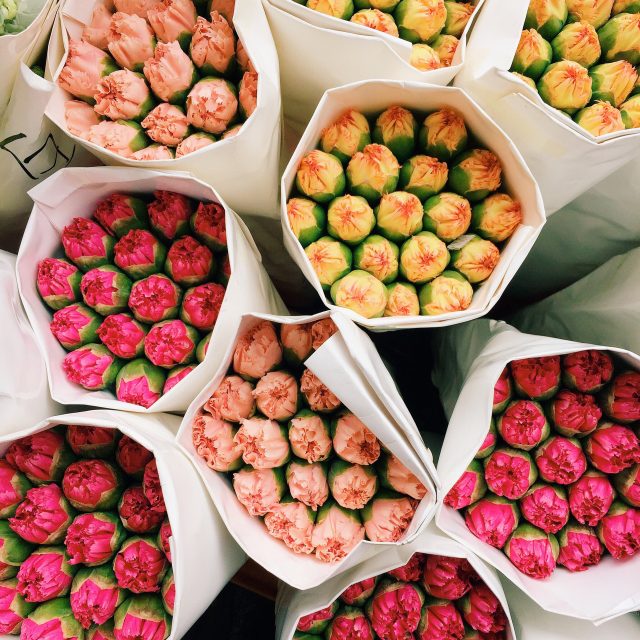 May 11th, 2018
Bulls managed to awaken as of late, helping coax the markets back into the black for the year with the Dow 30 and S&P 500 both finishing up for the week. Bullish optimism was spurred by mild inflationary reports for both consumers and producers, where prices rose less than forecasters had expected. In international economic news, China reported strong export and import figures, indicating that global demand for its goods remains strong in light of recently implemented steel and aluminum tariffs. Overall, it was an upbeat week for investors who managed to brush off last week's interest rate concerns in order to send the Dow 30 higher by 2.34%.
Producer Prices Post Modest Rise
The Producer Price Index (PPI) rose 0.10% in April, missing forecasts for a 0.20% rise. On a year-over-year basis, producer prices rose 2.60%, a marked slowdown from the 3.00% annualized rate reported in March. April's figure is the smallest annualized increase since December, giving investors some relief that the acceleration in inflation observed earlier in the year had crested. Within April's PPI figure itself, rising prices were seen in transportation and warehousing services but these were partly offset by declines in food prices. Producer prices, excluding volatile food, energy, and trade, rose 0.10%, a downshift from the 0.40% increase we've observed in each of the past three months. Year-over-year, core producer prices rose only 2.50% in April, easing from March's 2.90% rise. Bulls clearly cheered the report as it now appears that mounting inflation over pure, economic supply constraints may have eased. What remains to be determined over the intermediate term, however, is how prices will react to external political factors, namely the newly implemented tariffs and those that remain pending.
Consumer Prices Rise Slightly
Consumer prices rose 0.20% in April, which fell short of forecasts for a 0.30% rise. Year-over-year, consumer prices rose 2.50% after rising 2.40% in March. Rising costs for gas and food offset a drop in used car, truck, and transportation service prices in April. Core consumer prices, which exclude volatile food and energy, rose just 0.10%, easing from two straight monthly increases of 0.20%. On a trailing twelve months basis, core consumer prices rose 2.10% which matched March's increase. The consumer price report shows inflation remains very close to the Fed's 2.00% target level which, given the Fed's new willingness to allow prices to float around that line, comforted investors by suggesting the Fed has no need to act any more quickly than it has already communicated (rate hike expected in June).
China Trade Trumps Tariffs
Tariffs on steel and aluminum, which took effect on March 23rd, did little to dent Chinese exports in April. Global demand remains strong in lieu of on-going U.S.-China trade tensions. Outbound shipments rose 12.90% in dollar terms, beating forecasts for a 6.30% rise. Steel exports rose 14.7% for the month, while aluminum exports rose 0.20%. Meanwhile, Chinese inbound imports rose a robust 21.50% in April. This beat forecasts for a 16.00% rise. Imports were driven by strong demand for resources and agricultural commodities as well as high-tech products such as electronic integrated circuits. As a result of the strong export figures, China's global trade surplus rose to $28.8 billion, above estimates of $24.7 billion. Ironically, the impact from US tariffs seemingly had very little impact on the problem they were intended to correct. China's trade surplus with the U.S. widened to $22.2 billion, the first time the gap has widened since November. This shows the global supply chain's ability to absorb and diffuse the tariffs without disturbing the subsequent downstream pricing that could hurt demand. The question is, "Where is the tipping point?", and with the multiple trade fronts being fought and renegotiated, a great deal of uncertainty remains. This week at least, investors seem comforted knowing that the US/China, and to a lesser degree NAFTA, negotiations remain on-going while they continue to hold out hope that the tipping point for an all-out trade war will be avoided.
With the help of this week's data, markets managed to come around to the idea that a modest amount of inflation is a good thing and not strictly something to be feared. Rising material costs have failed to make much of a dent in headline consumer or producer inflation reports, which continues to be good news with respect to the market's #1 concern – the Federal Reserve and its rate path. That, coupled with strong numbers from the Chinese economy, managed to temporarily set investors' minds at ease despite the ever-expanding list of political and policy uncertainties that lie ahead.
The Week Ahead
We'll check in on consumer spending as retail sales and housing starts are released.
April Showers Certainly Do Bring May Flowers
This Sunday, May 13th, is Mother's Day, a day to celebrate moms and the loved ones in our lives that are like moms. Research shows that there is no shortage of plans to shower mom with gifts of appreciation. Spending on Mother's Day is expected to reach $23.1 billion in 2018, the second highest spending amount in the 15-year history of the National Retail Federation (NRF) survey, behind last year's $23.6 billion.
Some 86% of Americans plan to treat mom to something special this year, and on average, each person is expected to spend $180. According to the NRF, flowers will be the overwhelmingly popular choice for mom: 69% of people plan to buy flowers for Mother's Day, spending a total of $2.6 billion on flowers alone. The holiday is the floral industry's second busiest, after Valentine's Day and tied with Christmas. Peonies and roses still top the list as favorite Mother's Day bouquets so you are in luck if you have already splurged on those stems for mom. It has been reported that a certain royal wedding, also taking place this month, will include peonies, white roses, and foxgloves.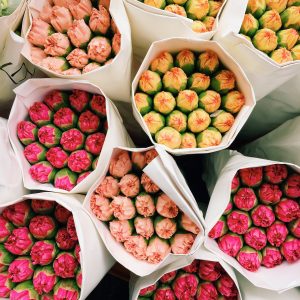 For those of us without royal budgets, the good news is that the carnation is making a comeback. Once considered a filler flower, old fashioned, and cheap, carnations are now available in many new varieties and colors making them a florist favorite. They also tend to last longer than most flowers. Still, you can expect to pay a premium for flowers sold around major holidays with price increases of up to 25% or more. If you might have a bit of sticker shock at the flower shop this Mother's Day, keep in mind that the profit margin for florists can be razor thin. Flower shops, as opposed to grocery stores that can buy in bulk, often pay premium prices for flowers from both domestic growers and flowers that are shipped to the U.S. from South America. California is the main domestic floral producer, but it only accounts for a small percentage of flowers sold in America. Last year, Columbia alone shipped more than 4 billion flowers to the U.S., or about a dozen for every U.S. resident. The floriculture industry in Columbia supports a whopping 130,000 jobs. Contributing to the cost of your blooms is the fact that the flower industry is labor intensive, and the supply chain involves refrigerated trucks and planes as well refrigerated distribution centers. The flowers do best when cooled below 35 degrees at the grower's site and then maintained around that temperature during their entire journey through what the industry calls the "cold chain" from the grower to the importers, bouquet assemblers, and retailers.
If you need more mother's day gift inspiration, the chart below shows where shoppers will spend their money this Mother's Day based on the NRF survey.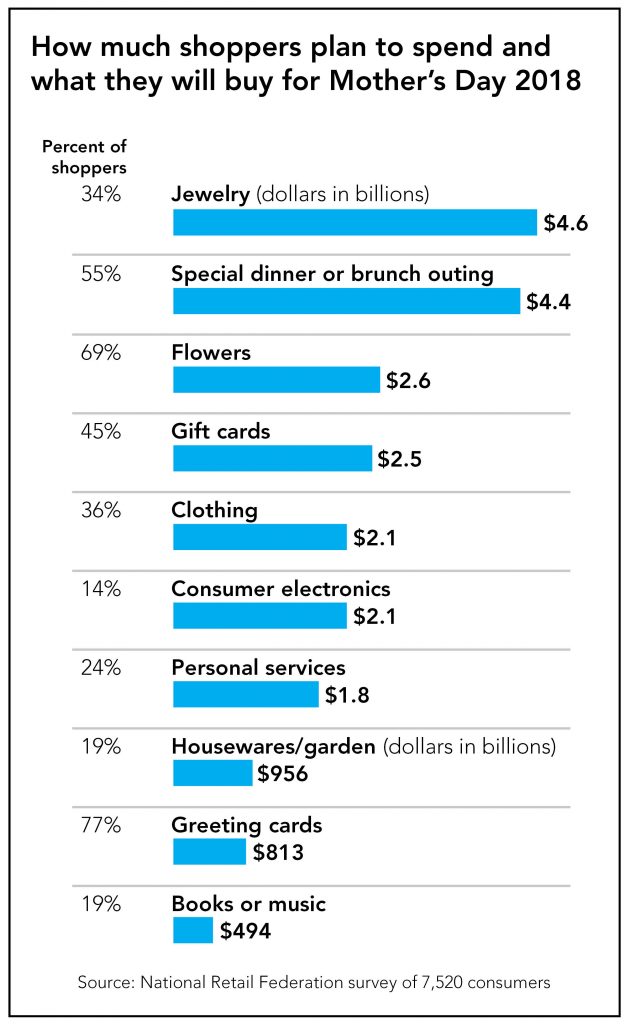 Important Disclosure: The information contained in this presentation is for informational purposes only. The content may contain statements or opinions related to financial matters but is not intended to constitute individualized investment advice as contemplated by the Investment Advisors Act of 1940, unless a written advisory agreement has been executed with the recipient. This information should not be regarded as an offer to sell or as a solicitation of an offer to buy any securities, futures, options, loans, investment products, or other financial products or services. The information contained in this presentation is based on data gathered from a variety of sources which we believe to be reliable. It is not guaranteed as to its accuracy, does not purport to be complete, and is not intended to be the sole basis for any investment decisions. All references made to investment or portfolio performance are based on historical data. Past performance may or may not accurately reflect future realized performance. Securities discussed in this report are not FDIC Insured, may lose value, and do not constitute a bank guarantee. Investors should carefully consider their personal financial picture, in consultation with their investment advisor, prior to engaging in any investment action discussed in this report. This report may be used in one on one discussions between clients (or potential clients) and their investment advisor representative, but it is not intended for third-party or unauthorized redistribution. The research and opinions expressed herein are time sensitive in nature and may change without additional notice.