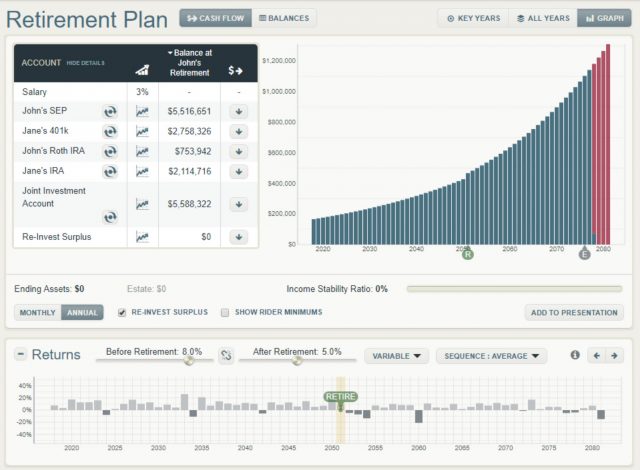 February 23rd, 2018
Markets struggled to build on last week's rally as investors continued to focus on rising interest rates. Concerns over the Fed's rate path drove the U.S. 10-year treasury yield to a 4-year high of 2.95%. The release of the Fed's January minutes managed to unsettle traders even though the central bank reaffirmed its commitment to gradually hiking interest rates so as not to disrupt the economy's momentum. Markets remain concerned over the Fed's belief that inflation will reach the 2.00% target level in 2018, which could force the central bank to move more aggressively later this year. U.S. economic data was light this week with existing home sales posting an unexpected drop in January. In overseas news, the Eurozone manufacturing sector showed continued strength while inflationary pressures remained low. A late week surge helped push the Dow up 0.36% for the week.
Fed Minutes Signal More Rate Increases Ahead
Bond investors poured over the January Fed minutes for signs the Federal Reserve would move faster than anticipated to hike interest rates in order to head off rising inflation. Outright bearish sentiment was held at bay, however, by the Federal Reserve confirming, once again, that it would continue with its gradual rate hike path in response to strong economic growth despite the expectation that consumer prices would reach their 2.00% target level in the coming year. The meeting minutes were drafted, though, prior to last month's jobs report which showed unexpected strength in average hourly earnings (+2.90% year-over-year), and it follows on the heels of a 0.50% monthly broad-based gain in prices from last week's inflation report. As such, the Fed's comments were not as calming as they otherwise might have been. The Fed will have another jobs and inflation report in hand when it meets next month, at which time we would expect another rate increase.
First-Time Homebuyers Sidelined
Existing home sales fell -3.20% in January (month-to-month) to a seasonally adjusted annual rate of 5.38 million units. This missed economist estimates for a 0.90% increase to 5.60 million units. Year-over-year, sales declined -4.80%, posting their biggest drop since August 2014. The drop in existing home sales was largely due to demand outstripping supply, with the tight inventory pushing up prices and lowering affordability for first-time buyers. House hunting prospects are likely to remain difficult looking ahead since supply is expected to remain tight and as mortgages rates move higher in conjunction with Fed interest rate hikes.
Eurozone Businesses Fired Up
It was another strong quarter for Eurozone manufacturing despite the IHS Markit Flash PMI Composite easing somewhat to 57.5 in February from 58.8 in January. Readings above 50 indicate expansion in the manufacturing sector while readings below 50 indicate contraction. Despite February's slowdown, it was still one of the most expansionary, or farthest reading above 50, in more than 11 years. Business optimism remained near a 6-year high with expected output in a year's time rising to 68.3 from 68.0. In short, the report showed that Europe is finally enjoying some sustained momentum in its manufacturing sector, which appears to be ramping up for a busy 2018.
Eurozone Inflation Below Target
Unlike the U.S., consumer prices in the Eurozone remained well below the European Central Bank's 2.00% target. Prices rose 1.30% year-over-year in January, down from the 1.40% annual increase in December. Core prices, which exclude volatile food and energy prices increased 1.00%, up slightly from December's 0.90% rate. The report indicates prices are still far below the central bank's goal, despite the sustained economic backdrop, which should keep central bank policymakers from deviating too far from their ultraloose monetary stance.
Since this week was light on heavy-hitting economic news, investors' main focus remained on the bond market and the impact of rising interest rates. A jump in interest rates corresponds to lower bond prices as investors sell longer and lower yielding bonds for shorter higher yielding bonds. Markets have been paying particularly close attention to the yield on the US 10-year Treasury as it inches closer to 3.00%. While 3.00% is an arbitrary level, if the treasury were to break that level it could lead to more reshuffling among investors simply from a technical or psychological standpoint. We've already seen yields on 5-10 year treasury bonds jump 0.50% so far this year, resulting in intermediate-term bonds losing roughly -3.00% to -4.00%. Assuming investors have heeded the Fed's comments, this should mean that the market has priced in 2-3 hikes with a potential fourth in the wings. Should the Fed signal another increase or two, then one might reasonably expect another -2.00% or -3.00% downside from here. Not a disastrous move when you think about it relative to equity market movements, but we remain very defensively positioned to interest rate risk within our bond portfolio by holding mostly short-term and credit sensitive interests. The hope obviously being that either the yield curve flattens, in which case our short bonds will earn as much as longer durations, or there will be a larger, vertical shift in the curve that would make longer duration bonds attractive once again.
The Week Ahead
U.S. manufacturers provide their latest take on the state of the industry as the ISM Manufacturing report is released. We'll also get the second estimate of U.S. Q4 2017 GDP. In China, the spotlight also shines on manufacturers as they report their latest figures.
Utilizing Technology to Empower Our Clients
For some, this long, cold winter and the recent deluge of rain has us longing for sunny days ahead. Whether it be a trip to a warmer locale or contemplating retirement on a beach somewhere, find out if your financial life is on track for whatever you might be dreaming about by meeting with one of our advisors for a financial and retirement health check up. Using an array of sophisticated and robust interactive technology tools, our advisors can model understandable, accessible, and personalized retirement and financial plan outcomes for every individual we serve.
Probity's state-of-the art technology tools and resources provide our clients with the power to instantly see how different investment decisions and personal scenarios affect their ability to achieve financial goals or to afford a comfortable retirement. Retirement planning isn't simply about risk and return or your time horizon. There are a number of multi-dimensional external factors that can affect whether you are on the right path to achieve the retirement you envision. Some of these include: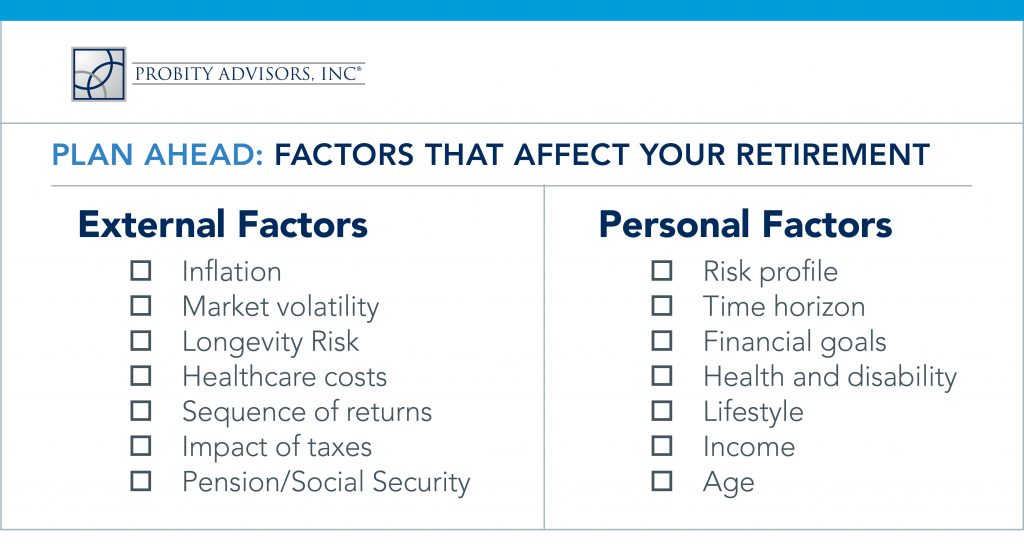 here
to contact our office today or call us at (214) 891-8131.
By modeling a variety of probable "what-if" scenarios, such as a range of possible outcomes in the markets or fluctuations in the economy, and given many unknown risks such as a major health event or other unexpected occurrences, we are able to put our clients on the same side of the table as our advisors to uncover challenges and to work together to assess whether our clients' financial lives are on track. Our technology allows us to simplify complex data and instantly illustrate a client's most critical income risks. We can explain how and why client portfolios are allocated and help our clients see — with easy to read graphics — the impact of potential gains or losses and demonstrate how changes in their portfolio or risk level may affect their returns. Our advanced modeling platform allows us to compare investment and retirement planning strategies for a much higher level of analysis and insight. Based on our review, we can make any modifications that may be necessary to help you achieve the retirement and the financial life you desire. If you would like to take advantage of our retirement and financial planning technology, please click
Important Disclosure: The information contained in this presentation is for informational purposes only. The content may contain statements or opinions related to financial matters but is not intended to constitute individualized investment advice as contemplated by the Investment Advisors Act of 1940, unless a written advisory agreement has been executed with the recipient. This information should not be regarded as an offer to sell or as a solicitation of an offer to buy any securities, futures, options, loans, investment products, or other financial products or services. The information contained in this presentation is based on data gathered from a variety of sources which we believe to be reliable. It is not guaranteed as to its accuracy, does not purport to be complete, and is not intended to be the sole basis for any investment decisions. All references made to investment or portfolio performance are based on historical data. Past performance may or may not accurately reflect future realized performance. Securities discussed in this report are not FDIC Insured, may lose value, and do not constitute a bank guarantee. Investors should carefully consider their personal financial picture, in consultation with their investment advisor, prior to engaging in any investment action discussed in this report. This report may be used in one on one discussions between clients (or potential clients) and their investment advisor representative, but it is not intended for third-party or unauthorized redistribution. The research and opinions expressed herein are time sensitive in nature and may change without additional notice.