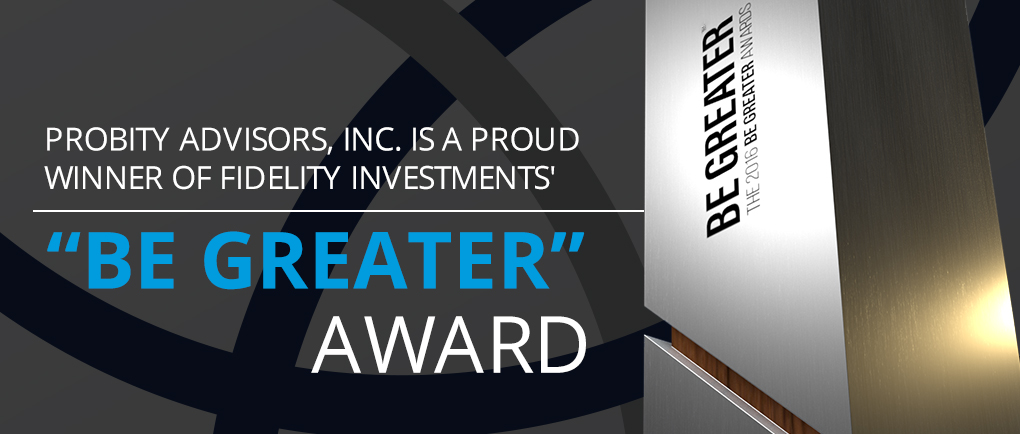 What does it mean to "Be Greater"?
Probity Advisors, Inc. is a winner of the Be Greater Award which recognizes advisory firms across the country who demonstrate excellence in critical areas of their business, including Strategy, Technology & Operations, Client Focus, Talent, and Risk & Regulatory. The award is presented annually by the division of Fidelity Investments that provides clearing and custody to registered investment advisors (RIAs). Probity Advisors, Inc. has been recognized as the national award winner among all RIA firms considered having $250 million-$1 billion in total assets under management.

Entrants were judged on the following business areas known as the Five Fundamentals of a Future-Ready Firm:
Strategy: Create focus to capitalize on market opportunities by defining a clear strategy and business model for the long term.
Talent: Develop a strong organization through the recruitment and cultivation of the right talent.
Technology & Operations: Enhance the client experience and drive operational efficiency by harnessing technology effectively.
Risk & Regulatory: Protect your business by managing changing regulatory obligations and mitigating risk.
Client Focus: Drive growth by targeting the right clients with the right offering, and modifying your approach as investor needs change.
Important Disclosure: The information contained in this presentation is for informational purposes only. The content may contain statements or opinions related to financial matters but is not intended to constitute individualized investment advice as contemplated by the Investment Advisors Act of 1940, unless a written advisory agreement has been executed with the recipient. This information should not be regarded as an offer to sell or as a solicitation of an offer to buy any securities, futures, options, loans, investment products, or other financial products or services. The information contained in this presentation is based on data gathered from a variety of sources which we believe to be reliable. It is not guaranteed as to its accuracy, does not purport to be complete, and is not intended to be the sole basis for any investment decisions. All references made to investment or portfolio performance are based on historical data. Past performance may or may not accurately reflect future realized performance. Securities discussed in this report are not FDIC Insured, may lose value, and do not constitute a bank guarantee. Investors should carefully consider their personal financial picture, in consultation with their investment advisor, prior to engaging in any investment action discussed in this report. This report may be used in one on one discussions between clients (or potential clients) and their investment advisor representative, but it is not intended for third-party or unauthorized redistribution. The research and opinions expressed herein are time sensitive in nature and may change without additional notice.