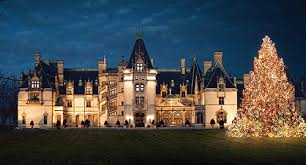 December 1st, 2017
With bulls pulling the sleigh, the Santa Rally was in full force this week as the Senate inched closer to passing its tax reform bill. Also boosting confidence this week was an upwardly revised Q3 GDP report, a strong start to the holiday shopping season, and robust manufacturing numbers. Industrial and financial stocks, which stand to benefit the most from strong economic growth and tax reform, led the charge this week with the Dow Jones Industrial Average rallying 2.86%.
U.S. GDP Hits 3-Year High
The second estimate of U.S. GDP showed the economy expanded at a 3.30% annualized rate in the third quarter, up from a previously reported 3.00%. Growth in business investment in inventories and equipment along with higher government spending helped drive economic growth to its fastest pace in three years. Business investment in equipment rose to a 10.40% rate, a three-year high, from a previously reported 8.60% rate. Government spending increased at a 0.40% clip, up from the previously reported -0.10% decline. Meanwhile, consumer spending moderated slightly to a 2.30% rate from a previously reported 2.40% rate. Despite the moderation in consumer spending, consumers look healthy going into the holiday shopping season as seen in early holiday shopping results. The GDP report indicates the economy is firing on all cylinders as it has now notched two consecutive quarters of 3%+ economic growth for the first time since 2014. Economic growth could get a further boost as tax reform becomes a reality.
Retailers Ring Up Holiday Cheer
Shoppers were out in full force this holiday weekend, marking a strong start to the holiday shopping season. More than 174 million Americans turned up in stores and online over the holiday weekend, topping a prior forecast of 164 million shoppers from the National Retail Federation (NRF). According to the number crunchers at NRF, from Thanksgiving Day through Cyber Monday, the average shopper spent $335.47, up from $289.19 in the year ago period. The early results cheered investors with traditional retailers such as Target and Nordstrom rallying on the news as the holiday shopping season appears to be bringing some much-needed relief to battered brick-and-mortar stores which have struggled to compete against online giant Amazon.com this year.
Manufacturing Remains Strong
The Institute for Supply Management's Manufacturing Index eased slightly to 58.2 in November from 58.7 in October. Readings above 50 indicate expansion in the manufacturing sector, while readings below 50 indicate contraction. New orders rose to 64.0 from 63.4 the previous month. Production rose 2.9 percentage points to 63.9 in November. Meanwhile, employment eased slightly to 59.7 from 59.8 in October. Of the 18 manufacturing industries, fourteen reported growth in November with manufacturers upbeat as business conditions remained strong.
So far, November and December 2017 are looking a lot like they did in 2016 – with markets in rally mode supported by the belief that Trump will ultimately get a deal done for Corporate America. We saw strong advances on Tuesday and Thursday as the tax bill advanced out of committee, and as Republicans announced they had secured enough votes to put their version of the bill on the floor for a vote by the week's end. Financials and industrials soared higher as consequence, while the hot-performing tech sector slumped as investors rotated into more economically leveraged sectors. Friday looked poised for another gain. This was until news of Michael Flynn's plea agreement managed to knock 300 points off the Dow in intraday trading.   Fortunately, the news was quickly digested, resulting in only a small loss for the day, but the intraday and intermarket volatility clearly picked up this week as investors looked increasingly reactionary as they wait for a legislative holiday gift.
The Week Ahead
It's Jobs Friday as the Bureau of Labor Statistics releases its November jobs report. We'll also have the latest on global trade as China releases import/export numbers.
Shirtsleeves to Shirtsleeves
If you have met with any of our advisors at Probity to begin creating an estate plan or to review and update an existing estate plan, chances are they have shared with you the proverb, "Shirtsleeves to shirtsleeves in three generations." This is a common cultural paradigm that is known around the world. In Japan, the saying is, "Rice paddies to rice paddies in three generations." The Irish say, "Clogs to clogs in three generations." In Italian it is "From stalls to stars to stalls." The Scottish say, "The father buys, the son builds, the grandchild sells, and his son begs." This adage describes the tendency of later generations to squander the wealth of earlier generations.
In this three or four generation cycle, the first generation works hard to build wealth, and the second generation learns from the prior generation's hard work and is eager to make the same choices that helped their parents achieve success. Subsequent generations benefit from the hard work of their parents and grandparents, but may not have an understanding of the work ethic, the frugality, the experience, the fortitude, and the care and concern that it takes to preserve their family's good fortunes and the lifestyle they now enjoy. They have a tendency to whittle away what previous generations worked so hard to achieve, and by the third or fourth generation, the wealth is gone. The fact that this proverb is so universal reflects how challenging it is to maintain family wealth throughout multiple generations.
The statistics behind wealth transfer attrition are startling, particularly when it comes to family-owned businesses.  Less than 30% of family owned businesses survive the second generation, and only 12% survive the third generation. When our advisors meet with clients, they typically share these insights to communicate that the time and effort that goes into creating an estate plan is just one piece of the puzzle. While it is important to have a thoughtful estate plan in place, it is equally important to put the work and due diligence into the process of communicating the plan with family members and ensuring heirs have financial literacy and are ready, willing, and able to handle the responsibility of inherited wealth.
We have found that in order for families to successfully transfer multi-generational wealth, it is essential to recognize that family wealth goes beyond financial assets. We typically advise our clients that wealth that endures through multiple generations requires three sources of capital: human capital, intellectual capital, and financial capital. In short, human capital is comprised of the individual family members, financial capital is the family's assets or a family business, and intellectual capital refers to the values that helped create the wealth. Legacy-minded families work hard to cultivate human and intellectual capital — not just financial capital, knowing that it is just as important to prepare the family for the money as it is to prepare the money for the family.
Intellectual capital typically encompasses the wealth creator's moral and ethical values and includes an account of their struggles and successes, philosophies, and the lessons learned in the process of building the family's wealth — and what it takes to sustain it. In the case of family businesses, intellectual capital also includes specialized business and professional knowledge that helped create the family enterprise. It is important for families to pass along hard-earned knowledge and experience to future generations. This intellectual capital can help the family legacy survive and thrive. The result is a more cohesive, functional family with an appreciation and reverence for the sacrifices and hard work of previous generations.
A family governance system can help families navigate the challenges of legacy continuity. It begins with identifying the principles, policies, and practices in a family that contribute to a shared vision of family money, and, more importantly, a process for making decisions about the family's wealth with the goal of perpetuating it. Our advisors can help families educate future beneficiaries about the family's legacy and develop a family governance system that builds a sense of accountability towards diligently sustaining family wealth — not just spending it. This can help ensure the family avoids the old saw, "shirtsleeves to shirtsleeves."
Important Disclosure: The information contained in this presentation is for informational purposes only. The content may contain statements or opinions related to financial matters but is not intended to constitute individualized investment advice as contemplated by the Investment Advisors Act of 1940, unless a written advisory agreement has been executed with the recipient. This information should not be regarded as an offer to sell or as a solicitation of an offer to buy any securities, futures, options, loans, investment products, or other financial products or services. The information contained in this presentation is based on data gathered from a variety of sources which we believe to be reliable. It is not guaranteed as to its accuracy, does not purport to be complete, and is not intended to be the sole basis for any investment decisions. All references made to investment or portfolio performance are based on historical data. Past performance may or may not accurately reflect future realized performance. Securities discussed in this report are not FDIC Insured, may lose value, and do not constitute a bank guarantee. Investors should carefully consider their personal financial picture, in consultation with their investment advisor, prior to engaging in any investment action discussed in this report. This report may be used in one on one discussions between clients (or potential clients) and their investment advisor representative, but it is not intended for third-party or unauthorized redistribution. The research and opinions expressed herein are time sensitive in nature and may change without additional notice.