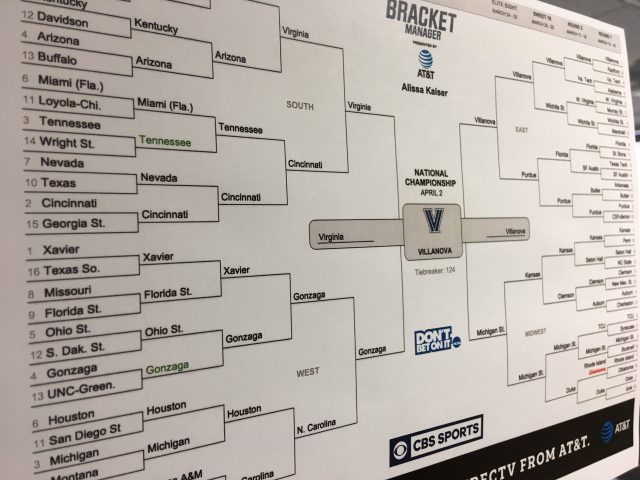 March 23rd, 2018
Keeping up the pressure on China to lower its trade surplus with the U.S., the Trump administration announced it would place 25% tariffs on $60 billion worth of Chinese imports. The new measures follow previously announced tariffs of 25% on steel and 10% on aluminum imports which are set to take effect today. In response to the announcement, Beijing countered, crafting a proposed list of tariffs on 128 U.S. products which account for $3 billion in U.S. exports to China. The week's developments on the global trade front spooked markets, drowning out the key takeaways from the Federal Reserve's Open Market Committee meeting and a strong manufacturing report from the Eurozone. With markets concerned over the prospects of a global trade war, the Dow fell -5.67% for the week.
Fed Hikes As Expected, Powell Deflates Inflation Concerns
Strong economic activity and job gains prompted the Federal Reserve to hike interest rates by 0.25%, targeting an overnight lending rate range of 1.50% to 1.75%. This marks the sixth rate hike for the central bank since it first began lifting interest rates from near-zero in December 2015. Fed watchers also closely tuned into the central bank's revised dot plot which refers to the Fed Funds rate projections from its policymakers. The dot plot showed no changes to this year's forecast of three rate hikes. It did however upwardly revise its projection for rate hikes in 2019, bringing the total number of rate hikes to three from the previously announced two. Assuming the Fed's forecast holds, the benchmark interest rate should hit 2.90% by yearend 2019, up from its December forecast of 2.70%.
While inflation concerns managed to roil markets several weeks ago, Fed Chairman Jerome Powell managed to set those fears aside with his comments on the topic. In his first post-meeting conference as Fed chairman, Powell noted inflation is not an immediate concern. The Fed expects modest inflation to continue this year with headline and core inflation both forecasted to be 1.90%. That remains below the Fed's target level of 2.00%. It does see inflation picking up slightly next year, increasing to 2.10% for core inflation and 2.00% for headline inflation. Despite the increase in next year's inflation forecast, it still remains well contained by hovering close to the Fed's 2.00% target level.
Eurozone Manufacturing Remains Strong
Eurozone Manufacturing PMI hit 56.1 in March, easing from 59.6 in February. Numbers above 50 indicate expansion in the manufacturing sector, while numbers below 50 indicate contraction. The index's decline was mainly driven by a skills shortage, supply chain delays, and raw materials shortages. Germany in particular had widespread delays, more than at any time in the survey's 22-year history. On a positive note, the Eurozone manufacturing report showed price pressures eased slightly during the month helped by cheaper imports while businesses reported strong payroll growth. Overall, business sentiment remained healthy in the Eurozone in March, despite the White House's recently announced tariffs on steel and aluminum tariffs. The Euro bloc has been granted a temporary exemption from higher tariffs, joining Mexico, Canada, Argentina, Brazil, South Korea and Australia on the list of exempted nations. Negotiations remain on-going for the Euro bloc to earn a permanent exemption from the tariffs and for a broader trade agreement with the U.S.
Once again, it was the risk of a trade war with China that dominated the headlines this week as the White House set in motion its newest round of tariffs. Although investors have been concerned over a possible global trade war, the Trump administration seems to have set its sights on China in particular. Exemptions to the tariffs on steel and aluminum have been granted to many U.S. allies while discussions continue to secure permanent exemptions and fairer trade deals. China, on the other hand, has been granted no exemptions to date, and has been explicitly targeted in this second round of tariffs. Even more Chinese tariffs are expected to be unveiled over the next several weeks.
As expected, China's rhetoric towards the tariffs has been bellicose, but their actual response, thus far, has been notably contained. China has proposed retaliatory tariffs targeting just $3 billion on U.S. goods, which is very muted when compared to the U.S.' tariffs of $60 billion on Chinese goods. It's still far too early to determine whether this week's actions will indeed spark a trade war between the world's two largest economies, but should it come to that, the deck would seem stacked more greatly against China given just how great the trade imbalance is between the U.S. and China. Still, trade wars cause pain for everyone and with U.S. companies' supply chains highly dependent on the movement of global goods, the White House will likely get an earful from US industries over the coming weeks as more trade, investment, and intellectual property protection measures are unveiled.
The Week Ahead
Week in Review will be taking a break from the action for the Easter holiday. Our next edition will hit your inbox on April 6th.
Busted is how millions of Americans can describe their NCAA men's basketball championship brackets this season. Commonly known as March Madness — or March Sadness for those who picked Virginia over University of Maryland, Baltimore County (UMBC) in the opening round — the NCAA Division I men's basketball tournament takes place every March with 68 college teams playing for the championship title.
More than 70 million Americans fill out a bracket each year. That's almost a quarter of the population. Where did this madness get its start? The first NCAA bracket pool is thought to have originated in 1977 in a bar in New York. Roughly 80 people participated in the pool, filling out brackets with each contributing $10 to the pot in a winner-take-all format. By 2005 at that same bar, some 150,000 people entered the pool, and prize money exceeded $1.5 million. But, the tax man cometh. After 2005's winner was identified as "Noe Body" and after a 2006 winner reported his winnings on his taxes, the IRS investigated. The bar's owner nearly went to prison for tax evasion but instead netted probation and a termination to the maiden pool. All good things must come to an end.
The NCAA's process for selecting, seeding, and bracketing each team is complex. It involves a committee of ten collegiate administrators from each of the four regions who are nominated to serve five-year terms. Committee members spend countless hours evaluating teams through observations, data analysis, and speaking with coaches. And there are rules to ensure fairness. Committee members cannot be in the room when teams from their conference are being discussed for inclusion, nor are they allowed to vote for them. Each committee member votes in secret. After teams are selected, the committee then seeds the teams ranging from 1 to 16. The best teams are given the 1 seed, and the worst teams a 16 seed. The opening games pit seeds against their opposite such that a 1 seed plays a 16 seed, a 2 seed plays a 15, etc. It is intended to achieve a competitive balance across the four regions of the championship. Prior to this year, a No. 16 seed team has never beaten a No. 1 seed in the NCAA men's basketball tourney. No. 16 seed UMBC upset No. 1 overall seed University of Virginia with a 20-point margin, becoming the very first 16th-seeded team to beat a one seed in the tourney's history. In this year's match-ups, a lower-seeded team has beaten a higher seeded team in 18 games so far. While a number of underdog teams get their turn at the Big Dance, there are still a surprising number of men's Division I basketball programs that have never been selected to compete in March Madness. Of the 351 teams currently in Division I, 43 have never made the NCAA tournament.
The odds of picking a perfect bracket are so small that mathematicians disagree on the actual estimate. Some believe it is as low as one in 9.2 quintillion while others believe it's as high as 1 in 128 billion. One thing everyone can agree on is that correctly picking the winning team from all 63 games of March Madness is nearly impossible. So much so that in 2014, billionaire investor Warren Buffett announced that he would give $1 million away every year for life to any employee who correctly picks the Sweet 16. This year, he sweetened the offer and doubled the prize if a team from his home state of Nebraska wins the tournament. Buffett doesn't have too much to worry about given that the odds are ever in his favor.
In 2018, no perfect bracket lasted through last Friday night, thanks to the incredible upset of UMBC over Virginia. Round two saw the upset of the reigning national champions University of North Carolina when Texas A&M beat the Tar Heels 86-65. Gig 'em, Aggies!
The final games of the Sweet 16 will play tonight with the Elite Eight tipping off tomorrow. Teams competing in the Final Four will go head to head on March 31st, and the championship game will take place on Monday, April 2nd.
If your bracket has been busted, don't worry. You can print a new one here.
Important Disclosure: The information contained in this presentation is for informational purposes only. The content may contain statements or opinions related to financial matters but is not intended to constitute individualized investment advice as contemplated by the Investment Advisors Act of 1940, unless a written advisory agreement has been executed with the recipient. This information should not be regarded as an offer to sell or as a solicitation of an offer to buy any securities, futures, options, loans, investment products, or other financial products or services. The information contained in this presentation is based on data gathered from a variety of sources which we believe to be reliable. It is not guaranteed as to its accuracy, does not purport to be complete, and is not intended to be the sole basis for any investment decisions. All references made to investment or portfolio performance are based on historical data. Past performance may or may not accurately reflect future realized performance. Securities discussed in this report are not FDIC Insured, may lose value, and do not constitute a bank guarantee. Investors should carefully consider their personal financial picture, in consultation with their investment advisor, prior to engaging in any investment action discussed in this report. This report may be used in one on one discussions between clients (or potential clients) and their investment advisor representative, but it is not intended for third-party or unauthorized redistribution. The research and opinions expressed herein are time sensitive in nature and may change without additional notice.