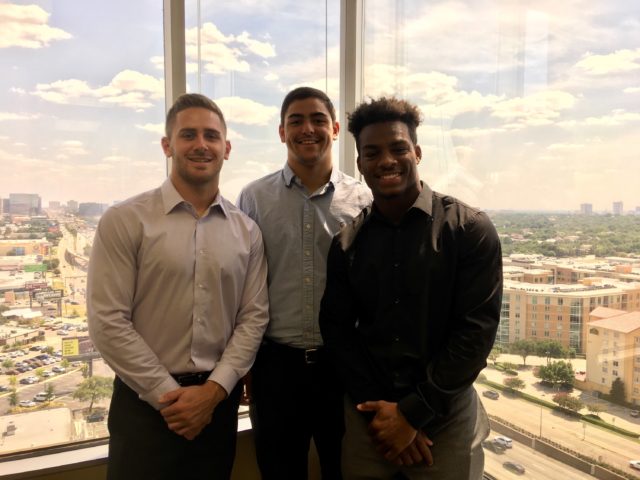 July 26, 2019
Market bulls managed to push the S&P 500 index above the psychologically important 3,000 level following last week's sell-off. The week's optimism was owed to a strong crop of earnings reports from the likes of Starbucks, Texas Instruments, and Google, all of which helped power the index to a new record-closing high of 3,025.86. In economic news, Q2 U.S. GDP made a solid showing, rising 2.10% on the back of a strong consumer. The resurgence in consumer spending, however, did not universally spill over to the housing sector, where existing home sales fell while new home sales rose strongly in June. With better than expected results from earnings season now becoming the norm, the S&P 500 tacked on 1.65%.
Strong Consumer Spending Lifts GDP
Q2 GDP surprised to the upside, rising 2.10% in the second quarter. That beat analyst estimates for a 1.80% increase in economic growth. Contributing to the beat were strong increases in consumer and government spending. Consumer spending notched its best performance since Q4 2017, rising 4.30%. Meanwhile, government spending rose 5.00% for its fastest pace since Q2 2019. Those increases helped to offset the -5.50% slump in business spending, driven in large part by the U.S.-China trade war which has thrown a wrench in forecasting future business demand. The trade war also took a bite out of exports, which declined -5.20% for the quarter, while imports eked out a 0.10% increase. Overall, the economy remains largely a story of the consumer, whose momentum has almost singlehandedly staved off U.S. recessionary concerns.
Housing Mixed
We're in the middle of the traditionally busy homebuying season, but you wouldn't know it from the latest existing home sales numbers. Existing home sales fell -1.70% in June to a seasonally adjusted annual rate of 5.27 million units. Driving down existing home sales for the month were declines in West Coast markets, which fell -3.50% to an annual rate of 1.09 million units, and in the South where existing home sales fell -3.40% to an annual rate of 2.25 million units. Also contributing to the decline in sales was a 4.30% year-over-year increase in the median sales price to $285,700, which was an all-time high. The limited supply of homes makes it likely prices will remain elevated, with inventory levels sitting at a meager 4.4 months. That is significantly below the six to seven months considered to be a healthy balance between supply and demand. While existing home sales struggled in June, new home sales managed to jump sharply. Sales rose 7.00% to a seasonally adjusted annual rate of 646,000 units. Results were driven by an increase in sales in the West which helped to more than offset a drop in sales in the Midwest and Northeast. Although new home sales had a strong showing in June, new home sales have historically been volatile on a month-to-month basis with significant revisions. A potential cut in rates from the Fed next week, along with a tightening labor market, may continue to create mixed forces in the housing sector by both supporting demand and affordability while at the same time keeping prices elevated.
The Q2 earnings have, so far, proved to be much better than expected, pushing markets to new all-time highs. Aggregate Q2 earnings are now expected to increase 0.50%. This is a notable turnaround from earlier forecasts of a -2.00% to -3.00% decline. With earning season's trend having satisfactorily passed the market's test, investors will now shift their attention to next week's Fed meeting. Market watchers have been expecting a -0.50% rate, betting the Fed would aggressively front run the risk that global economic weakness will impact the U.S. While it is true that U.S. GDP did slow in the second quarter as business investment declined, consumer spending has proven highly resilient. After today's GDP report, a -0.50% rate no longer appears to be in the cards, with a -0.25% cut now seeming the most likely Fed action. Although some commentators may point to 2.10% Q2 GDP growth as a substantial decline relative to Q1, it is in line with the average growth rate we've seen during this bull market, and it was handicapped by self-inflicted trade disturbances. The reality is likely that the economic potential for the U.S. heading into Q3 is probably stronger than Q2's number otherwise reflects. This leaves the Fed in a position of having to be conservative with their rate cut, while at the same time trying to keep the market from feeling jilted altogether.
The Week Ahead
Earnings season will continue with the Fed's FOMC meeting being the primary focus for markets.
Probity Welcomes Superstar Trio of Interns

Our office has been busy this summer with three interns, including Preston Ellison, James Proché, and Collin Rock who have been learning about financial planning, estate planning, and wealth management. All three interns are students at Southern Methodist University (SMU) and were introduced to Probity through SMU's Life After Ball program that helps college athletes develop a professional network and gain real-world skills through internships that will facilitate a transition into a career after graduation. Our advisors have been working closely with Preston, James, and Collin to help them gain a deeper understanding of how to build a solid financial foundation and how to grow, preserve, and protect wealth. Our interns have "shadowed" our advisors and participated in client planning meetings to learn more about our comprehensive and client-centric approach to financial planning and estate planning.
We've been so impressed with our college student-athletes, and we wanted to help readers get to know our talented team of cheap labor. Preston, James, and Collin play football for the Mustangs and have been balancing a rigorous 20-hour per week training schedule with their team, as well as taking summer school classes and working at Probity. Preston plays middle linebacker at SMU, and during his freshman season, he played in an impressive number of games, making it on the field in ten of the Mustangs' 12-game season. He graduated from Permian High School in Odessa, TX where he was a National Honor Society member and captain of his high school football team. He also played basketball, baseball, and track in high school. Preston is currently entering his sophomore year at SMU where he maintains a 3.3 GPA while keeping up with his demanding football schedule and being an active member of Sigma Alpha Epsilon. He credits his mom with instilling him with a strong work ethic and inspiring him to succeed.
James is SMU's leading wide receiver. He was one of the top recruits in the nation as an entering college freshman. In the 2018 season, James was the only SMU player to be put on the American Athletic Conference (AAC) all-conference team. In June, he was ranked number four in the College Football News 2019 Preseason AAC Top 30 Players list, and earlier this month, he was ranked number five among the 50 most important college football players in Texas. James recently earned his undergraduate degree from SMU and will play football in the upcoming season during his remaining year of eligibility while he begins graduate school and prepares to enter the 2020 NFL draft. Off the field, James enjoys spending time with his family, including his younger sister who is a star track athlete that earned a top-ten finish in the 400 Meters at the Junior Olympic Championships last month. James just might be our favorite intern because when we asked him what he liked best about his internship, he unequivocally shared that everyone at Probity is a genius.
Collin Rock is in his second summer internship with Probity, and we couldn't be more thrilled to have him back in our office. He is a senior and will graduate in December 2019 with a degree in markets and culture and a minor in economics. Collin graduated Cum Laude from Cypress Ranch High School in Cypress, TX in 2016 where he was a member of the National Honor Society and a member of the Key Club. In high school, Collin played quarterback and led his team to the 6A Division I state finals in his junior year. That same year, he helped his high school team win the 6A state baseball title. Collin was named one of "Texas' Best" Athletes by Dave Campbell's Texas Football Rising Magazine in 2016. Collin is following in the footsteps of his father who played football for Texas A&M. Off the field, Collin enjoys golfing when he isn't training with the Mustangs, and he is a member of Sigma Alpha Epsilon fraternity.
All three of our interns knew they wanted to play football from an early age. Preston started playing when he was just seven years old, and James and Collin started playing when they were nine. The Mustang season officially kicks off on August 31st with their first game against Arkansas State. Sadly, it's an away game, however, we hope you will mark your calendar to join Probity Advisors for a tailgate on The Boulevard at SMU on Saturday, November 9th, 2019. The kick off time has not been announced yet, but you can find us on The Boulevard two hours prior to the start of the game and join us for food and beverages, a game of corn hole, and some camaraderie as we support our home team and our interns. If you would like to watch Preston (#41), James (#3), and Collin (#20) play, you can purchase tickets to any of the home games here.
Important Disclosure: The information contained in this presentation is for informational purposes only. The content may contain statements or opinions related to financial matters but is not intended to constitute individualized investment advice as contemplated by the Investment Advisors Act of 1940, unless a written advisory agreement has been executed with the recipient. This information should not be regarded as an offer to sell or as a solicitation of an offer to buy any securities, futures, options, loans, investment products, or other financial products or services. The information contained in this presentation is based on data gathered from a variety of sources which we believe to be reliable. It is not guaranteed as to its accuracy, does not purport to be complete, and is not intended to be the sole basis for any investment decisions. All references made to investment or portfolio performance are based on historical data. Past performance may or may not accurately reflect future realized performance. Securities discussed in this report are not FDIC Insured, may lose value, and do not constitute a bank guarantee. Investors should carefully consider their personal financial picture, in consultation with their investment advisor, prior to engaging in any investment action discussed in this report. This report may be used in one on one discussions between clients (or potential clients) and their investment advisor representative, but it is not intended for third-party or unauthorized redistribution. The research and opinions expressed herein are time sensitive in nature and may change without additional notice.